Newsletter Comments from SCScompA
Newsletter Date: July 31, 2002
Welcome to my monthly newsletters.
Again, I have been delayed this month in updating the newsletter. In fact, it is the first half of August as I write this -- not the above-indicated July 31st. Time has, just, been short. Perhaps, in August, I will catch up to correct dates. In any case --
America Online allows its users to "free" Web space, up to 12-meg per screen name. I make use of this space. I have been using the space since I started this Web page and its newsletters a couple of years ago.
This past month, America Online "lost" some of the Web page material I had on their server. I understand this -- it is not "easy" to maintain servers for the millions of AOL users "out there". I am just one of the millions... of users.
I had backup of the material and I think I have re-added the material onto the AOL server and I believe the situation is stable/OK. If it turns out that you find material missing for a particular monthly newsletter or other part of this Web page I would appreciate your letting me know what you discover "not found" as reported by your Web browser.
I apologize for any inconvenience. AOL's-provided user Web space is a "no-charge" item (well, the cost -- I am sure -- is "buried" in the monthly fee we pay for AOL). I have appreciated their maintaining the server-provided space. I hope they (AOL) continue to provide the space and, likewise, support it -- in good fashion.
Lastly, as part of this month's introductory comments:
Two things I want to comment on I place here, early in the newsletter, to draw attention to the following:
I had a feedback this past month related to the objectives of my monthly newsletter. The feedback and the time the sender spent writing/sending the feedback to me was appreciated. Based upon the feedback I want to emphasise the following:

I normally include a number of images/pictures/graphics in my monthly newsletters and Web pages that the newsletter Web page itself points to.

I definitely do not mean to "bother" anyone performance-wise with my images/pictures/graphics.

How do I selected the images/pictures/graphics that I include? I show information that is of interest to me. No other criteria is involved in deciding what I include -- except that I continue to emphasize matters I believe to be of interest to a person involved in home computing.

With regards to the "performance" of this Web page and its images: I use a guideline of 5-minutes-max using a 56KBps dial modem, based upon my testing with my connection (I normally get about 49KBps-reported connection speed).

I believe this to be OK for a home computer user oriented Web page and fully understand that this is unacceptable for a business oriented Web page. Certainly, no person who is "working" should be waiting 5-minutes to view a Web page. My monthly Web page is not intended to be viewed by someone who is "working" -- that is why I believe five minutes max as a guideline for loading my Web pages to be OK.

I also know that many users are now connected to the Internet using higher-speed than 56Kbps dial modems.

Perhaps we should write all Web pages aimed at higher-speed connection times? Who knows...
Let me know if you have any comments/ideas regarding the above or anything related to my simple/basic/home-computer-user-oriented Web pages.
I encourage you to browse earlier SCScompA newsletters if you have not already done so, and to send me any comments/questions/concerns that you may have regarding material presented in these newsletters.
Let's begin, as usual, the newsletter with a couple of scanned (I use a Microtek ScanMaker V6upl) comics.
-------------------------------------------------------------------
It Seemed To Be A Good Idea
It is often good to discuss things before committing.

-------------------------------------------------------------------
Flexibility
There are different ways to solve a problem.
-------------------------------------------------------------------

I wish you success with your use of home computing systems.
Contact me regarding any matter in this newsletter that causes you concern or you want to otherwise discuss.
Regards,
Dave Shogren
eMail to: SCScompA@aol.com
---------------
Using PaintShop Pro for Image Creation
As many of you -- or your family members -- head back to school or to other responsibilities, there may be opportunities for preparing presentations or "papers" addressing topics that are either assigned or of particular interest.
I would like to remind those of you who are PaintShop Pro users -- or you are considering use of PaintShop Pro or a similar application -- to create images that can be included in your presentation/paper. Images, in a presentation/paper can be very effective and PaintShop pro can be of much assistance in meeting your image-creation objectives. A brief example is shown, below.
Note: Some terminology in the following may seem confusing to those of you who are not users of PaintShop Pro or a similar application. And -- for those of you who are PaintShop Pro users: The following may seam quite trivial. However, the purpose of this newsletter item is to offer a reminder of some image-creation matters or, if not a reminder: Get you started down such a path.
First we open PaintShop Pro and receive a panel such as the following.
Then, assuming we want a new (non-existing) image we ask PaintShop Pro for a New image by clicking on File->New and acknowledging the size of the new image. I find that a size of 600 pixels wide and 550 pixels high at 100 pixels per inch is a convenient size for both PC-display and for printing.
We may want to start with a boxed-area and some text.
Then, we might find some pictures or other "artwork" on our computer or via some other source.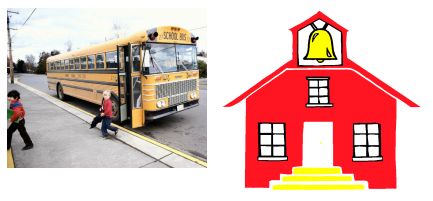 Place the selected pictures/artwork into our PaintShop Pro image and touch it up with some arrows or other text.
Then, we can include the newly-created image in a Microsoft Word document or something similar: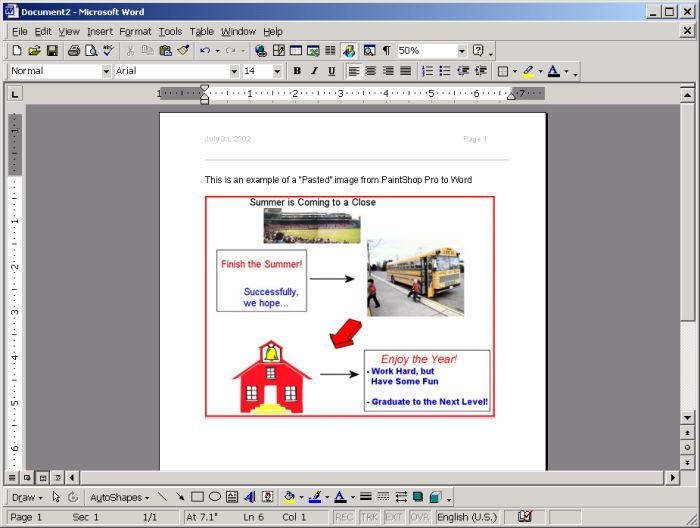 Or into Microsoft PowerPoint or something similar: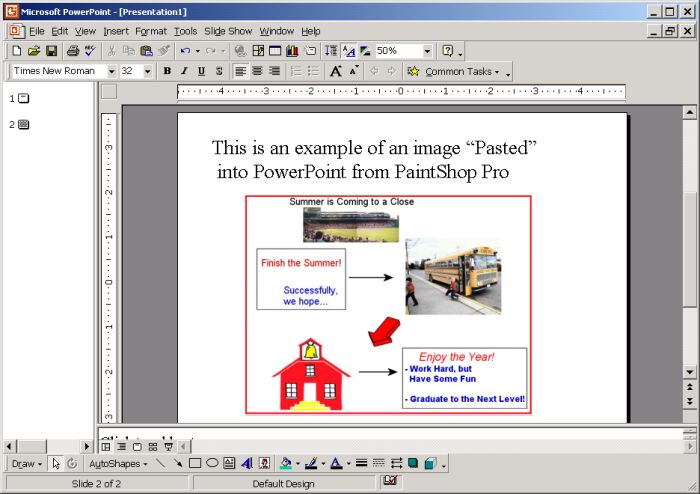 We may choose to (I always would) save the image we created with PaintShop Pro onto our hard disk for future use or modifications. It is easy, with PaintShop Pro, to "cut" (copy) out of any "full" image a selected part or parts and use selected parts in another paper/presentation.
I hope this small example will come to mind as you have need of image-creation as part of some upcoming work you are involved in. If you don't use PaintShop Pro, use some other application that is on your home PC system. An image can be of much value to a presentation/paper.
If you are interested in more information on this setup and a closer look at the equipment involved, click on: Additional Information Regarding Using PaintShop Pro to Create an Image.
If you have any comments on this topic, don't hesitate to contact me using SCScompA@aol.com.
Good luck as your use of images as part of any presentation/paper schoolwork proceeds.
In most of my newsletters, I show a few examples of using an HTM-type approach at sharing photographs or other material including scanned images with family/friends.
This month I discuss/show examples of:
Using scanned images as part of an HTM file intended as a Greeting Card.
Scanned fabric and a picture taken of a miniature quilt (fabric art).
This month's Great Golf Hole.
To see this month's example click anywhere on the following image or on the link, below the image.
Link to This Month's Photograph Examples from SCScompA (if you did not click on the above image).

-----------------------------------------------------------------


Don't hesitate to contact scscompa@aol.com with any comments regarding the above or for any related discussion.
Miscellaneous Comments Regarding Home Computer Use Matters that Came Up in June
Miscellaneous Matters.

Inserting Pictures into an AOL Message

Sometimes I have a reason to send someone a picture. There are ways to do this. My preferred path would be to place the picture on a Web page and, in turn, point the person to that Web page for their review at their convenience.

However, some users may not easily have a way to place the picture on a Web page.

Perhaps the user attaches the picture as an attached-to-an-eMail file. The problem that I sometimes run into with this approach is that the eMail-person I am sending the eMail and attached picture to may not be used to downloading and, in turn, viewing the picture.

An approach that can be done to insert the picture directly into the eMail message. With AOL, this may be done using the following steps:

Click, using the right mouse button followed by clicking on Insert a Picture

Find the Picture and Open It

Using normal Windows panels and click on Open

Perhaps Resize

If the picture is large, you might ask AOL to resize. I rarely do this resizing, since I have set up the pictures for PC viewing, already.

AOL Brings the Picture Into Your eMail

Another Way: Copy Followed by Paste

From (Copy) one application (such as PaintShop Pro or Microsoft Photo Editor) into (Paste) AOL.

Edit-->Copy followed by Two Ways to Paste

The eMail Message is Complete

I prefer to only do this for one or two pictures at a time. That way the person receiving the eMail is not overburdened with pictures!

From a Web browser other than AOL's, the approach is similar. Find the Insert path for your particular eMail support.

If you have more than two pictures, I recommend you ZIP the pictures together and Attach the ZIP file. We have talked about this in past newsletters, but if you have a question or two send them along if you are interested in this topic.

Some Web pages used this past month:

The following is a repeat from previous months. I don't have anything particular to add at this time.

As a reminder, to those of you who are new to my newsletters, I use the following regularly (I am intentionally not making the following information clickable. Just enter the addresses into your Web browser's "go to" field if you wish to go there now. Perhaps use copy/paste from this Web page's following information). In any case, for information, my most-used Web pages this month include:

MLB.com for Web radio baseball!
Search engine of my choice: Primarily, Google: http://www.google.com

USA Newspaper (Minneapolis Star Tribune): http://www.startribune.com/

Europe Newspaper in English (Edinburgh Scotland, Scotsman): http://www.thescotsman.co.uk/

Europe Newspaper in German (Zurich Switzerland): http://www.tages-anzeiger.ch/portal/tagi/portal.htm

America Online's support for: "Business News", My Portfolios", "Movies" (Reviews), "Top News".

Weather: http://www.intellicast.com/

There are, naturally, other Web pages I used as the month went by -- but, the above I use on a daily basis.

Let me know what Web pages you use on a daily basis.

Maintenance Matters.

This area is a repeat from previous newsletters -- but it is worth continuing to include in current newsletters as well. I apologize for the repetition, but the topic is important.

As mentioned earlier in many of my newsletters: I recommend you have the latest vender-recommended software (operating system and primary applications) maintenance and security support. If you need assistance in this topic, don't hesitate to ask someone you trust.
Once again, nothing "dramatic" came up this month maintenance-wise on my systems. As a reminder, however:

Backup any of your user files / folders that contain information that you do not want to recreate. Remember: Your PC and/or its hard disk will break... You will have to, eventually, (probably at the worst possible moment!) recreate your user-data from your backup media.

Backup your key user-data on external media -- and, once in awhile store that external media "offsite" in case of a major disaster at your home. I realize this sounds extreme -- but, I recommend you take the time for offsite backup of your user data every six months or whenever you feel comfortable doing so. Where? Perhaps at a friend or relative's house that you trust will not be bothered by the material. I even know of some users who place the backup data once a year-or-so in a safe deposit box. Offsite backup is not a casual matter to either ignore nor "manage". However, I recommend you do it if your home computer system involves user data that you do not want to start from scratch recreating.

The latest McAfee XDAT (file for use by McAfee in identifying viruses) I have downloaded and installed use virus definitions 4.0.4214 dated 07/24/2002.

I recommend that whatever virus protection service you use, you check at least once a month for virus updates.

Microsoft, in their "Windows Platform News" newsletter sent out dated June 11, 2002 mentioned that there is a security update available for Internet Explorer. I used their link to get Q321232 for Internet Explorer V6. I recommend if you are running Windows that you upgrade to Internet Explorer V6 if you have not already done so and, in addition, try to keep up with Microsoft's security updates for Internet Explorer V6.

Have a good, maintenance-free time until we talk again.
Contact SCScompA if you have any comments or questions about the above.

---------------
FreeCell Game/Deal of the Month
We continue, in our household, doing FreeCell deals from 1-to-32000! We will NOT accomplish this task. We know that. However, as we go along in our for-fun-effort, yet frustration... I will mention once in awhile specific FreeCell deals we find challenging.

Note: If you are running your PC on Windows 98, it is possible you have to specifically install FreeCell. Just install Accessories/Games.

Let me know if these FreeCell games and the number of times we had to restart to solve the deal is about what you find. If you are going to attack deals 1-to-32000 and want to interact with us in that regard, let me know what thousand-or-so you are going to start with. We have completed deals through 2000. Now, we are attacking 2001-to-3000 and I would recommend you start with 3001! At the rate we are going (a little more than 100 deals a month) it will only take us 22 more years to complete the 32000 deals without your help. If you let us know what you have completed, it will take us less time!

I am adding to this column in the newsletter a few "special" games that we found during the month.

Let me know how YOU do!

If you want to see our list of FreeCell Deals 1-thru-what we are working on now and our comments on how many times we had to restart the deal to find a solution, let me know -- or click on: SCScompA FreeCell Table of Completed Deals

---------------
To contact me about anything on this Web page, please: send mail to: SCScompA@aol.com

Or send snail-mail to:

SCScompA
P.O. Box 58223
Raleigh NC 27658
USA

------------------------------


Use your Web browser's Back button or to go to SCScompA's main Web page and other newsletters, click on: SCScompA main web page or go to any of the pages pointed to in the SCScompA frame at the left of this panel.