As the years go by, our old-faithful home computing system may be still running -- but, we decide to replace it with a newer system.
We could, before we replace it, choose to upgrade the currently installed system. After upgrading, it may serve as a wonderful "second system" for the home computer user.
Why have a second -- or third -- system? A number of reasons, including:
Backing up your user data from your primary machine. Yes, you need to backup your information externally (for example on CD/RW or ZIP disks). However, if the second machine is still usable, I find it convenient to store information there in-between external backup actions.
Using the second system for "overload" when other in-your-home users need the system for the Internet, games, report/document-writing, or other use when the primary system is being used. Yes, the second system (probably) will be slower than the primary system. However, in many situations the "slowness" is better than not being able to use a home computer system at all.
One important comment related to use of the second system: The computing use that the home computer user needs while using the second system needs to be available on that system! This is an obvious comment -- but sometimes we have a software application (game, word processing, Internet access) or hardware (for example a scanner or a particular printer) that a user becomes used to when working on the primary home computing system and, when he/she moves to the second system the expected application/hardware may not be available. Yes, we can "share" in some/many situations information across multiple home computer systems. Through local networking, it is very easy/straight-forward to share data files and printers. For scanners? Well, it is possible to get a hardware switch setup that assists in moving the scanner between systems (if the two systems are within hardware-connection reach!), but I personally do all my scanning on one system.
It is often difficult to share applications. I do not mean the "data" (for example, a Word document); I mean the application itself (such as Microsoft Word or a particular game your home-users are fond of). As a result, for a number of reasons not gone through as part of this newsletter item, I recommend just installing the key applications on both home computer systems. When doing this, it may be necessary to contact the application owner (for access to install keys) -- but, generally, for a home user it is possible to do this. If not, for those applications that the application-writer does not allow you to install on two systems (I have one such application....) it is necessary to purchase two copies of the software. A pain -- but, in some cases it is safer/more cost effective to simply get two copies of the application rather than "fight" a sharing/multiple-install battle.
One thing about most Microsoft products: As long as you are "one" home computer system, many applications are allowed to be on multiple PC systems in your home. Their install/verification procedures (telephone call for getting final install codes are cooperative/reasonable.
An overview of the second-machine environment is shown below. First, we show the existing "old" system. We have a access to the Internet, a printer, a scanner, and some applications that are important to us.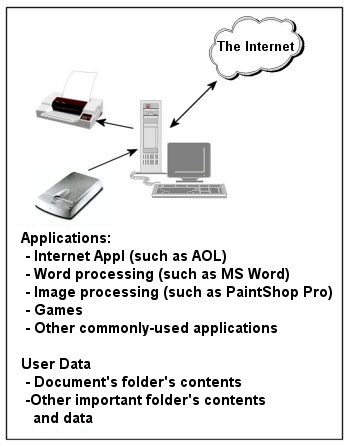 Next, we see that (on the left, shown below) we replace our "old" primary computer with a new computer -- and "move" the old computer somewhere that can be used in a backup (and/or as-needed) situation.
We make certain the new computer works with our Internet, the printer, and the scanner.
Then we check out the old computer in its new role. In this example, we make sure the applications are installed on both the new and the old computers while defining "production" folders for user data on the new machine. We install some sort of home computer network (such as an Ethernet Hub or a phone line network -- we have talked about these in other SCScompA newsletters) and copy the user data from the old system to the new system.
We can use the data (user data) primarily "on" the new system by sharing the new system's folders between the two computers by use of home networking approaches.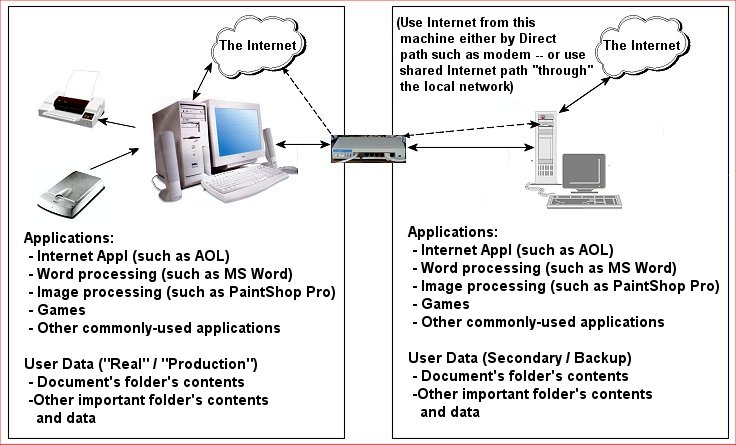 To use the second machine as a "backup" (data-wise) and for a spare "user system" when the primary machine is busy, it may be necessary to upgrade the old machine. Cost for the upgrades can be very justifiable -- and reasonably priced. Upgrade for the second (old) system might include:
Hard Disk.

The newly-installed system's hard disk space is probably greater than your older system's. You don't need as much space on the "backup" (old system) as you have on the new. You only need to have space for online backup of key data from the new/production system -- and you only need that space for the period of time between offline backups. In my case, I backup my home computer system's key hard disk data folders once a month. So, in theory I need my "online" backup only for 1-month or so.

However, since hard disk space is quite inexpensive, think about upgrading the backup system's hard disk space when you move it into a backup scenario.

I do not backup my operating system or "Program files". If necessary (not often, we hope!) I just re-install the operating system and application programs if the primary system fails. Actually, as we have talked about in earlier newsletters, I should say "when" rather than "if". The primary system will fail. At the worst possible time. That is why we have a backup system/approach.

Memory.

Again, the newly-installed system probably has additional memory than the older/backup system. However, again: Memory prices are not too bad just now -- so, if you have application programs that you find running slower than you would like on the backup system, consider an increase in memory before getting too frustrated with your "old" system.

Connection approach to your primary system.

Your new system should already include a device for interconnection to other systems. Many users are going to a wireless network - and are doing so successfully. Many of us still use cable(s) and Ethernet. Some of us use in-house/wall-phone-wiring. Whatever you decide to us to interconnect your two systems, the approach may require you install something on your old system. Cost (especially for cables/Ethernet and an Ethernet hub for use in the home network) is not prohibitive -- and, it is necessary. In addition, the home network can be fun and a time-saver!

External storage/backup approach.

Your new system probably has CD/RW. I, personally, would include a ZIP disk for backup on the new machine for a home computer user -- but, that is just something I prefer (in addition to CD/RW). Although your second (old) system need not have an external storage/backup capability: It may be a "nice to have" matter as time goes on. Again: Price is not a significant issue here.
Other matters could be discussed regarding your old/"backup" system (such as use of an "old" printer) plus the technique you choose for sharing/using the Internet with multiple home computer systems (that is a topic for upcoming newsletters when I have time) -- however, in summary:
Don't hesitate to contact someone you trust for advice with the above matters as you move your home computer environment forward.
We have talked about shortcut keys in previous newsletters (see January, 2003), but the topic comes up enough as I discuss home computing with users, to mention this month as well.
Important, primarily as an ease-of-use matter. Most/all of any shortcuts may be done without the use of shortcuts. However, if your use of the computer system/keyboard is becoming more familiar to you and you have not tried using shortcut keys: Give them a chance to assist you.
Let's review what shortcut keys are: (Note: Those of you who are familiar with shortcut keys, just skip by this newsletter item.)
An easy (and often used!) shortcut key is for copy/paste. Assume that your keyboard is similar to the following. Holding the shown-keys down when Copy is needed and, later, then Paste is used - does the "work" of multiple mouse clicks.
Ctrl and C result in a Windows-supported Copy action.
Ctrl and V result in a Windows-supported Paste action.
Many applications support these two "standard" shortcut keys.
If you wish to, you can test the above by doing the following:
Let's assume you are using a Web browser (as you read this Web page) that supports the shortcut key for Copy. (You may check this by seeing if the Web browser's Edit "pull down" shows Ctrl-C as supported for Copy as shown, below.)

If the Copy (as shown above) does not show "black"/highlighted/active, then you have not identified anything in the shown-panel to Copy. In that case, left-button click and "hold down" the button as you identify something in the Web page (or whatever panel you are using for the test) you want to Copy. An image or some text. Whatever you prefer, for this test.

If the Copy field in the Edit pulldown is highlighted, you have identified something to copy.

Press, at the same time, the Ctrl and C keys.

Move to another window (panel) on your desktop. For this example, let's use Microsoft Word or WordPad as the window.

If the Paste field in the Edit pulldown is highlighted, you have previously copied something!

Press, at the same time, the Ctrl and V keys -- and you will see the information you previously copied, now "in" the "pasted-to" application!

You might do this, for example, to save an eMail message into Word or WordPad and, in turn, re-format the message's information (or, more likely: Part of the message's information) to be something that fits your needs and then print or save the information for later use.

Summary: To do the above-shown copy and paste, after highlighting some information I Copy by Ctrl and C pressed at the same time, and I Paste by Ctrl and V pressed at the same time.
See the January 2003 for additional information on shortcuts. However, from that news item I repeat the following as a reminder of many shortcuts:
The shortcut keys I find that I use the most include:
When in a Web browser panel:



Alt+Back Arrow - To go Back one panel.

Downward Arrow - To move the panel down one line at a time ("Scrolling")

Upward Arrow - To move the panel up one line at a time ("Scrolling")

Page Up - To scroll up faster than with the arrows (more of the panel per scroll)

Page Down - To scroll down faster than with the arrows (more of the panel per scroll)

Try the above on the Web page you are viewing now -- or, later!

When using Microsoft Word (or some other "data entry" application such as WordPad that supports the following "standard" keyboard shortcuts/hot-keys:



Assuming you have selected ("highlited or darkened") some text or image: Ctrl + C - Copy the selected text or image to the "Clipboard".

Assuming you have copied something to the "Clipboard": Ctrl + V - Paste the contents of the "Clipboard" to the current-place in the current application (such as another Word document, an eMail, or another place in the currently-worked-on panel/file).

Ctrl + A - Select All of the file you are working on. Handy when you want to copy all the information from your current file to another (For example, copy all the information from an eMail message and then paste all the information into a Word or WordPad document for printing/saving) or if you want to "clear out" (cut/delete) everything in a file.

As discussed earlier in this newsletter item, there are many more of these keyboard-type (data entry) shortcuts. If you are not yet using shortcuts, try using the above when you are in Word or WordPad.

When I am using PaintShop Pro I use the following keyboard shortcuts the most:



Whatever is selected (par of an image or the entire image): Ctrl + C - Copy the selected text or image to the "Clipboard".

Assuming you have copied something to the "Clipboard": Ctrl + V - Paste the contents of the "Clipboard" as a new image.

Assuming you have copied something to the "Clipboard": Ctrl + E - Paste the contents of the "Clipboard" into the current (active) image. The newly-added "part" of an image is a new layer to an "old" image!

Rotate the image (or selected part of an image): Ctrl + R

Undo the last action: Ctrl + Z

Un-Select the current selection (Select "none"): Ctrl + D

Save the current image: Ctrl + S
Good luck with your use of shortcuts/hot-keys.
If you have any comments regarding this topic or any newsletter item, don't hesitate to contact me using SCScompA@aol.com.