Even though most of the home computer users I work with use Microsoft Word (yes, I know there are some/many other fine word processors, most of the users I work with use Microsoft Office products) I am still quite often asked for examples of using Word.
This newsletter item is aimed at showing a brief set of Word examples I use on a regular basis.
Before getting started showing a few examples of my regularly-used Microsoft Word, let's review some preliminaries:
Open Microsoft Word and see what are some defaults you use. To start Word, you may have an icon on your desktop or you can click on Start-->Programs and (probably!) find Microsoft Word. Hereafter in this newsletter item we will refer to Microsoft Word as (simply) Word. Also: Your version of Word and your defaults that you have set up for using Word may/probably-do differ from the following-shown panels. It is hoped that the similarities are sufficient to meet this Web page's objectives: Give you some further ideas for use with your PC's home computer system.
If you do not find Word and do not know how to start it -- then ignore this newsletter item and just move on past the following Word discussion!
Likewise, if you are an experienced Word user, you may want to also skip this newsletter item.
-------------------------------------------------------------------
Initializing Word
In any case -- Let's assume you have a Word panel now on your desktop. Something similar to:
Let's check some of your setup by clicking on: Tools-->Options.
Review the above Options and considering modifying options such as shown in the right-side panel above. I especially modify the file location defaults for "Documents" and "Clipart pictures". I set these options for whatever project I am working on for a reasonable (days or weeks) amount of time.
You may also want to set up a default profile (in Word terms: Template) that has, for example, some pre-set information such as date and page number already set up. I do that and set the above-shown "User templates" to point to a Windows' folder that holds my templates.
When Word is initialized without opening an existing document it defaults to using the "Normal" template that has been distributed by Microsoft when you installed the Word product. I recommend never trying to modify that template. If you want to have a new template create it with Word and save it in a folder you can point to by the above defaults. Have someone (your PC assistance/help/support person) help you with this! Having a template for "my personal" use for different projects is of value to me and saves some time. If you are not comfortable with this type of discussion, OK -- just use the Normal template!
When I open a new Word document, Word goes to that folder first and in turn I am offered an option to select what template I want to use for the new document. The following is presented when clicking on File-->New.
If I select the "Normadav..." template shown in the above panel, then a template I have created for myself is selected as a result of my pointing the above-mentioned "User templates" to a folder that holds the "Normadav..." template.
In the above example, all I have done in the "Normadav..." template is ask that Word insert the current date and page numbers in each page of my new document and locate this information in the Word Header.
I, now, can write in the New document anything I have for this particular use of Word.
What do I do the majority of time, using Word?
Print notes that I have Copy/Paste from my eMail application (America Online, in my case).

Why? I often want to print the eMail for sharing with another family member or for saving in my own folder/directory of information. I can move multiple eMails into a single Word document and I can edit (using Word) the saved-into-Word-format eMail information. I have sufficient reason to do this, that I use this approach nearly each day.

Following, is an example of a set of recent messages I used this approach for. Once I have the messages "into" Word format I can use Word to (for example) spell check and otherwise format the eMail-originated information into a format I choose to use.

Three panels are shown in the following example.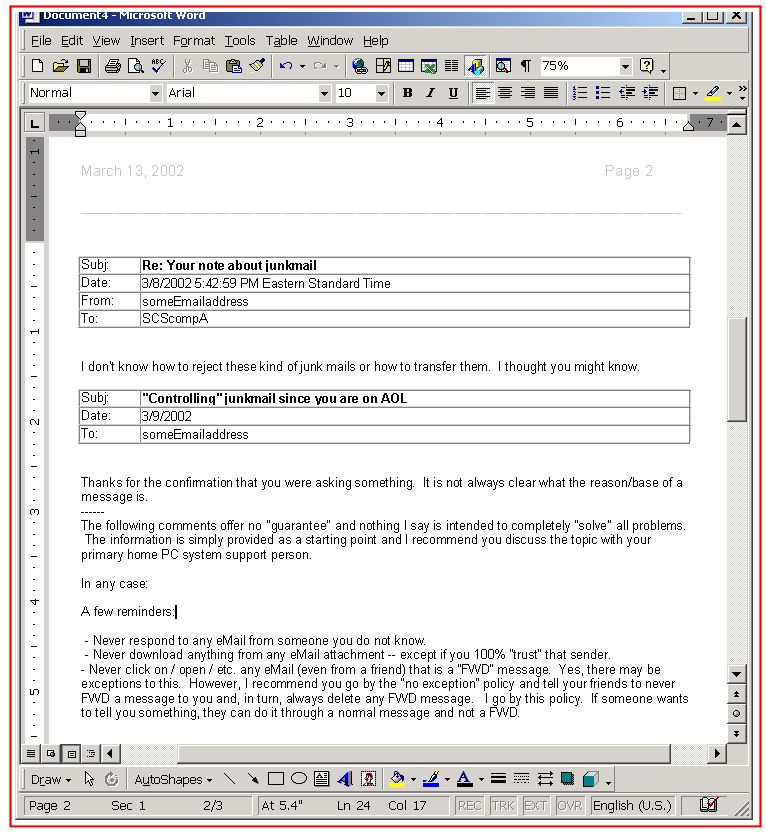 Again, as I mentioned previously: Moving the information into Word gives me a nice approach at reformatting, spell checking, saving, printing and otherwise taking advantage of my word processing application.
I will not bother you with additional panels for this month's examples of using Word. Let me know if the above panel-shown approach is of value to you.
Without showing panels, other uses I use nearly daily of Word include:
Notes! I write notes regularly. What kind of notes? Person-to-person notes that are not eMail.
Journals. Travel journals. I always keep a journal while traveling and I use Word for this.
Billing/reporting to customers what services have been charged. Word has templates that fit my needs and if you have a small/home business: Take advantage of using Word to assist you.
Printing labels (mailing or name labels) for meetings/parties or other events. Word can assist you in this regard.
Documenting pictures. It is easy to import (bring into) Word an image. Once into Word, it is very easy to document/write-about the image. Once into Word, you will find (if you have many images!) that the Word document is large and your PC will need reasonably-large resources to allow you to move-around and modify the document/text and add other images. However, many of you have very nice home PCs by now -- so: Use the PC! I now recommend a home PC is a reasonably-fast Pentium processor with a minimum of 128 Meg memory (256 Meg preferred). If you are in this area -- you can manage quite a large number of images and associated text with Word.
Presentations. Yes, you may have other applications on your home PC for presentations (such as Microsoft PowerPoint or Lotus Freelance) -- however, in some cases Word is sufficient and some family member or teacher (if your presentation is going to be given to them) may well prefer something in "Word" format as opposed to its being in "presentation" format.
Moving information from Word into Web format. I, personally, use "native" HTM tags more than I use the Word-->Web support. However, I use it sufficiently enough and, certainly, recommend using, the Word-->Web support that I hope you take advantage of that support. Don't hesitate to have your support person assist you in this regard. As we have talked about in numerous newsletters: It is not necessary that you place the Web-presentable information on the Web! You can/should use the Web-presentable information on your and your friend's/families' home PC system without the information ever being on the Web. Why would you do this? Well, for example, you took the time to "import" images into Word from a recent trip and you documented the images using Word: Next, use Word to convert the information into Web-displayable format and put the Web-displayable information onto some external media (such as a RW/CD or a ZIP disk) and you can easily then share the information on another PC without ever using the Web. Again, ask for assistance in this regard if you are uncertain. Some family member or friend can help you get started!
The above are what I use Word for nearly each week (at least). I hope the discussion gave you some ideas.
Let me know what other applications you use Word (or another Word processor) for on a regular basis. I am sure, for example, that many of you use your word processor for school/homework assignments. I wish you well!
Good luck with your use of Microsoft Word or whatever word processing application you use.
Don't hesitate to contact scscompa@aol.com with any comments on the above or for any related discussion.