Every few years I need to upgrade my primary home computer. Those of you who regularly read my newsletters know that I adhere to the "$3000" rule: When purchasing a home computer system, budget $3000 for your computer, software, and primary connecting devices.
Well, I purchased my replacement computer for around $1600. I did not need to purchase software (I have it from the replaced-system) (for example: Windows 2000 Pro, Microsoft Office including Word, Excel, and PowerPoint, plus imaging software (I use PaintShop Pro) and other miscellaneous software. I also did not have to purchase a display, printer or scanner (I had replaced the printer and scanner earlier in the month... the display that I have is fine). If I added these amounts to the computer's $1600 I would have been around the $3000 figure.
I purchased the computer from a local store that I have used in the past (in fact, the same store was used for the replaced computer that had been purchased seven years ago; a nice "run" for a home computer).
The Computer
The system I purchased included:
$60 Assembly fee - Intrex PC
$120 Motherboard and Processor: Intel 865GBFL Socket 478, Onboard Video/ Audio, LAN, SATA, USB2.0, DDR400
$215 Intel Pentium 4 3.0GHz Retail Box with Fan, HT, 800MHz FSB,1MB cache, Socket 478
$66 Case: Intrex Tower ATX Case - Front USB/Firewire/Audio
$60 400W ATX Power Supply FSP 60PN w/ 120mm Ball Bearing Fan, 18/24 dBA
$13 SilenX 80mm Ultra Quiet 11.8/14.4dBA, 1400/2400rpm, 18/28CFM, Smart Case Fan
$190 Memory: 1GB Memory via two 512MB DDR PC3200 (400MHz) modules
Drives:
$15 Floppy Drive, 3.5" 1.44MB,
$110 120GB 7200rpm SATA Hard Drive, 8MB Buffer
$90 80GB 7200rpm SATA Hard Drive, 8MB Buffer
$80 Iomega 250MB internal IDE ZIP Drive, OEM
$120 Optical Drives: Lite On 16X Dual Layer, DVDRW Drive w/software
$40 Modem: USRobotics 56k v.92 PCI Internal Winmodem ($10 mail-in USR rebate)
Input Devices:
$18 Logitech Optical Mouse, 3-Button with Scroll, PS2
$13 Multimedia Keyboard, PS/2
$28 Audio: Creative Labs SoundBlaster Live! 5.1, OEM
$70 Creative Labs Inspire 5200 Dolby 5.1 Speakers, 6-piece w/ Subwoofer, 47W RMS
Accessories:
$3 UDMA33 IDE Ribbon Cable, 18"
$40 Cyberpower 425VA UPS
Extra: $36 Two PCI Bi-directional Parallel/Printer cards End up with 3 useable Parallel Ports (For old scanner and external modem)
Printer: No Printer Selected.
Software: No Software Selected.
$99 Warranty / Internet: Lifetime Labor, one year parts, Intrex limited hardware warranty
Total Cost: $1486 plus state tax
I mention the above configuration and costs as a potential price/guide/comparison for use if you are going to replace/upgrade your home computing system soon.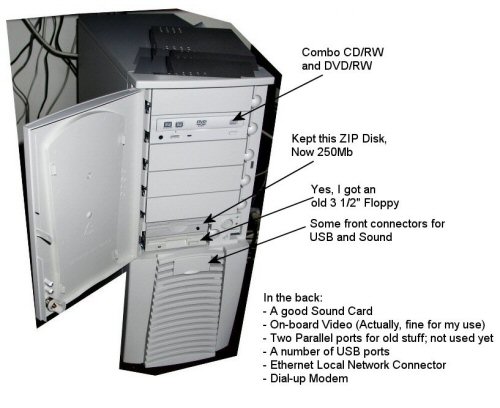 Certainly, you may decide to not get a system as described above. For example:
The above are thoughts that come immediately to mind as reminders for a home computer purchaser. If you have additional thoughts or questions about the above configuration, don't hesitate to send me an eMail.
Printer
Shortly before my seven-year-old PC decided to not work any longer, my second (in the seven years) printer needed new cartridges. This is a normal situation -- and I fully intended to purchase the cartridges and continue with the "old" (it was nearly 3-years old) printer. However, when I got to the store for purchasing the total of $65 USA two cartridges -- I opted to get a new printer.
All of the above discussion is with regards to HP (Hewlett Packard) printers. I have "always" used HP printers -- and, other than replacing the cartridges at $65 each six months or so (at my print rate/style: I probably print more color than most home computer users, and I use "normal" print output all the time rather than use "draft" as a default and, in turn, choose a higher print detail if needed. I do use "normal" all the time for color; the HP quality at normal is sufficient for my use).
In any case - for less than $200 USA plus a $50 mail-in rebate from HP (promised, but not here yet.... as with many such-promised rebates...) - I purchase an HP 5650 Deskjdet printer.
I really like it. I am sure there are a number of competitors in the printing field that do as good a job and are as usable -- but, it is the best HP printer I have had for home computing.
The bad news: I would guess that the model has been replaced by HP with something "better" -- and the "replacement" model has different print cartridges! That seems to be a familiar path in HP's strategy.
However, if I was going to buy an HP printer for home computing use: I would contact HP printer support via their Web page and see what they recommend as a replacement to the HP 5650.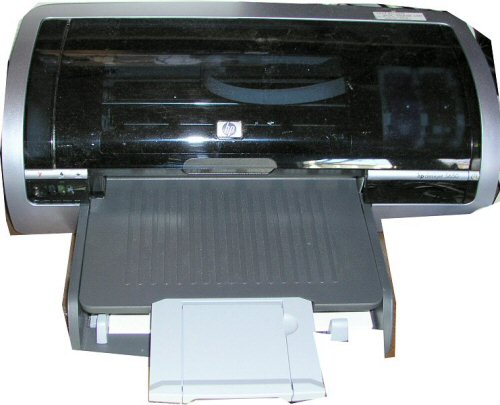 What do I like about the printer:
A home computer user should be able to enjoy three years or more of a printer such as the HP 5650.
A few dislikes/comments:
Scanner
I was not expecting to replace my old scanner (a parallel-port connected Microtek Scanmaker V6UPL). It had been working fine.
After installing the new PC I connected the parallel cable from the old scanner to the new PC -- and tried to get it to work. A couple of times since I purchased the Microtek V6UPL I had to re-install the parallel-connected scanner and, when so doing, it took a few "attempts" to get it to work.... but, eventually was successful. In this installation, however, the installed scanner worked one day! Then, it gave up. Why? Who knows. Certainly, not Microtek tech support or I. We tried. No luck.
So - I went to the Web, looked up "scanner reviews" and tried to read up a little on what other people's experiences were with the "latest" home-computer-oriented scanner (approximately $200 USA budget).
What I found was the Epson Perfection 4180 Photo scanner. So far, after six-weeks or so: I am very pleased.
What I like about the scanner:
Fast!: I use my scanner a lot. Every day. Some, for scanning documents and photos -- but, most often for scanning fabric for use in a Web page that I manage. In all scanning uses, up until now, I have had very fast/good-quality results.

The Epson 4180 scanner, at 150 DPI (a level of "detail" specified when scanning) is about ten times faster than the older Microtek V6UPL. It saves me a lot of scan time per day/week.

Quality: Certainly, this is important. If a home user copies photos (or in my case, 90% of the time I scan fabric) then, scanned-quality is a major factor. Up until now: I am very happy with the scanned output with whatever material I have scanned.
USB Connectivity to the PC: Installation was, as expected for a USB-connected device: Simple. Quick. Successful.

The Epson-provided software was a version that in Professional Mode was what I was familiar with while using the old scanner. Familiar. Easy to use. As expected.
What I dislike about the scanner:
Size: The scanner bed (for scanning) is not legal-paper-sized, it is normal 8 1/2" x 11". I sometimes could use a larger scan area. I know we "get what we pay for" -- but, in the future I will take a scanner with a legal-paper-sized area if it is within my budget.
Mail-in rebate: I promptly mailed it into the Epson-instructed place. Many weeks ago. No luck, yet, in getting the mailed-in rebate back. Typical, for mail-in rebates. Someday, I guess, it will arrive.
Digital Camera
This summer, a few months before the PC broke, I added to my home computing environment a new digital camera.
As those of you who follow my Web page have seen in previous newsletters, I use my digital camera a lot and emphasize sharing/using/showing digital camera results on a PC display -- and, printing selected digital camera results.
My first digital camera, still working fine, was a 1.5 megapixel Olympus. It is now five years old -- and I replaced it with another Olympus camera, a C-5050ZOOM.
The Olympus C5050ZOOM is a "5 Megapixel" camera; certainly, a step above the previous 5-year-old 1.5 Megapixel camera I was used to.
Again, as with the other home computer user's equipment mentioned earlier in this newsletter: I am pleased with the C5050ZOOM.
A few things that I like about the C5050ZOOM:
Output picture quality: As I mentioned above, I had been getting 1.5 megapixel digital photos with my previous camera. I default the new-to-me C5050ZOOM to be 4.9 megapixels. I am very happy with the results I end up with in my PC.

The 4.9 megapixel result in my PC is 2560 wide x 1920 high. Is this the "optimum" for my home computer environment (hard disk, display, printer)? I don't know. I do know, the 4.9 megapixels are higher quality (display and printing) than the previous 1.5 megapixels. Yes, my primary PC display is set at 1024 x 760 -- and the defaulted-to 2560 x 1920 will not fit on my display at 100% size.

When I want to display the image on my PC display, I use PaintShop Pro to adjust the image as we have discussed numerous times in my newsletters. I adjust the image to be a max of 600 pixels high (as compared to the from-the-C5050ZOOM 1920 pixels), keeping the proportion of the original image. Or, I adjust the image to be a max of 1000 pixels wide (as compared to the from-the-C5050ZOOM 1920 pixels), keeping the proportion of the original image -- if the result of the adjustment is within the 600 pixel's high maximum for my PC system.

If I print the image (up to a "normal" paper-size image that my printer handles: 8.5 inches wide by 11 inches high), I provide more pixels to application doing the resizing application (PaintShop Pro, in my case) as a base for the resized/smaller image than were provided by the previous 1.5 megapixels -- and the image prints quite well. I am quite satisfied!

Feel: The C-5050ZOOM feels great in the take-a-picture position. It has nice weight and balance while fitting the hands great.
Camera's Internals: The C-5050ZOOM is programmable. Have I taken advantage of this? No. Someday....
Dislikes that I currently have with the C-5050ZOOM include the following.
Flash "Automatic": Well, the C-5050ZOOM has some presets. I can default these -- but, I have not taken the time to set up the programming inside the C-5050ZOOM. Someday I will do that.

The location of the flash set button is OK -- but, so far, I have to set it to "off" prior to setting (for example) another option, such as macro.

The auto-flash on the C-5050ZOOM, for my use, is "too sensitive" and goes off in situations I find it should not do so.

Someday I find out how to reset the default to be "no flash". Someday.

Documentation: Small printing, as with most of today's electronic equipment's documentation.

What I did was to scan/enlarge some of the pages that I needed as I began using the C-5050ZOOM. That worked, for me, although I have not gone through much of the documentation.
The good news: I like the Olympus C-5050ZOOM. The bad news? They (Olympus) have no doubt replaced that model with another. What I would do if I were looking to purchase a digital camera in the price range of $400, would be to ask Olympus (or whatever digital camera manufacturer I choose) to try to recommend a match for the characteristics/ability of the Olympus C-5050ZOOM and then go to the Web and see if I could find a few online reviews of that suggested camera. Although the Web reviews are, sometimes, suspect... it is still something I tend to do rather than just purchase "blind".
PC VirusScan and Firewall
My previous McAfee VirusScan renew-DAT contract was over awhile ago. Although I was able to continue to upgrade the DAT (VirusScan specifics for the application's work), I eventually needed to renew the contract.
I decided to upgrade from VirusScan Version 8, to their latest offering -- rather than simply renewing the DAT contract.
Mistake.
Let's start with my dislikes:
Overall: I am very unhappy with the McAfee applications I purchased. The Version 9 that I ended up with does not allow me to just, at my convenience, go to the McAfee Web page and update the DAT. It requires me to do this as a function of what they call in this version (at least the Version 9 package that I purchased) "McAfee Security Center" and its Upgrade support.

I do not like this approach -- I prefer to go to the vendor's Web page at my convenience and in my own way -- not go there as a result of some on-my-computer application other than a Web browser.

Worse than the above, I ask (via a configuration parameter to McAfee Security Center) that the product does NOT try to do the update itself. I expected, in so doing, that I would not be "prompted" by the product about updates. No luck. The product has built-in timers (by the week) that prompt me even though I have configured it to let me control matters.

I have multiple home computer users on my PC and I do not expect the other users to be presented with application "pop ups" for situations that I take care of myself. Other users of my computer should not be bothered with such matters.

The upgrade process itself appears to be aimed at high-speed internet users. It is not "fast" for me, as a dialup user. In McAfee's Version 8, all I had to do was get the DAT file. Now, with Version 9, the upgrade process is more involved and, in addition, is done with an internal application. Not convenient, for me (and, I assume, for other dialup users.

Support: I have not found any way to discuss initial installation issues with McAfee by phone. Yes, they provide a phone number that offers the "first two minutes" free. When has a home computer user ever had a question/problem that can be solved in two minutes? In my experience: Never. I very much object to large companies not allowing for at least initial installation support. McAfee does have easy-to-access Chat technical support. I have used it multiple times since I installed McAfee Version 9. The chat support is good from an access point of view. The chat support has not assisted me at all; invariably the chat tech support discussion ends with "Re-install the product". Not fun, for a home computer user.
Mailed in rebates: I also do not have a mailed-back response to my mailed-in rebate.
What I like about the McAfee applications I purchased:
Both applications (McAfee VirusScan and McAfee Personal Firewall) work when installed/updated.

That is the good news.
-----------------------------------------
Good luck with your additions/upgrades in your home computing environment!
I will be expanding upon some of the above comments in 2005 newsletters.