Miscellaneous Matters.

Web pop-ups.

Well... how many times, recently, have you asked your Web browser to present you with a particular Web page -- and ended up with a not-asked-for panel in front of the information you were looking for? More times than you would like, I bet.

In the following example (top shown panel) I wanted to go to the Star Tribune newspaper Web page and before I could view the information I wanted -- the "blocking" panel came up.

Another version of the blocking panel (sometimes called a Popup) is shown in the bottom shown panel.
In the first-shown example (above) the "about:blank" panel is the first indication that a popup is coming. The information the popup owner wants us to see is, just, not loaded into the Web browser -- yet. It will be: If we don't get rid of the panel beforehand.
The same is true of the second-shown example shown above.
How do you get rid of them? One way is to purchase a "popup" blocker application. I have never used one -- but I have read that some of them are better at blocking popups than are others. In any case, I don't use one. Why not? I have no problem canceling the popup "on the fly" (as they occur).
I understand the reasons for the popups. I do not agree with the reasons (I am quite sure that few Web users pay attention to the information presented by a popup) -- but, as of today "popups" are going to come up once in awhile.
Another way to eliminate popups is to the "popup blocker" provided by your Internet provider (AOL in my case). I don't use that support, either! Why not? Well, I have multiple systems: One is still AOL V6, another is AOL V7, and one is AOL V8. Since the popup support is in AOL V8 -- two of my systems would get popups, anyway. Plus, I assume that some popups get "past" the popup blocker application/approach (I am not certain of this -- I, only, suspect so. Let me know if you have good experience with a popup blocker).
So, what I do is as soon as the popup starts to appear, click on one of the shown-top-sides of the popup window and "close"/cancel the popup window.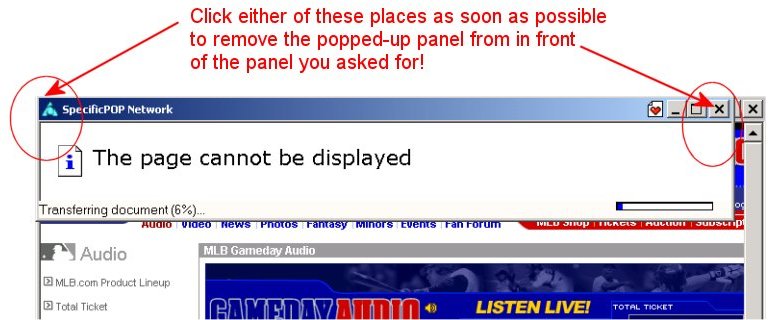 Once the popup is out of the way, we can see the Web page we were looking for!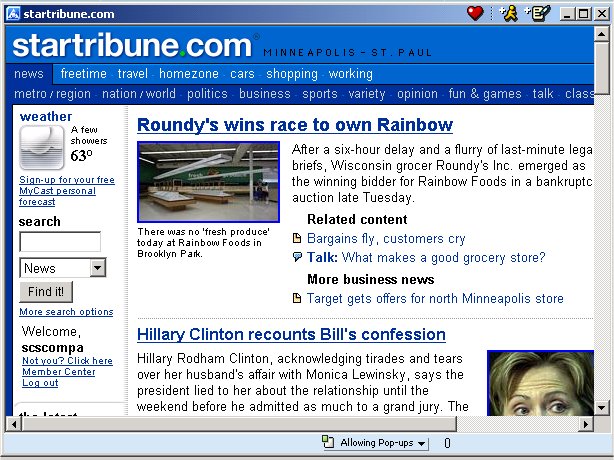 Don't let the popups cause your Internet experience any pain: Just, get rid of them as quickly as possible -- and (I have not, so far) try the popup blocker support from your Internet provider.
Good luck!
Registration for viewing Web pages.
In addition to the "popup" activity, many Web pages are starting to ask you to register to use the material/Web page.
Personally, I agree with this approach -- as compared to the option of the Web page owner "going out of business" or leaving the Internet world. I have no objection to paying a fee and/or registering for obtaining access to a Web page that I enjoy -- or need.
A few comments about this:
Realise, when you register for a Web page, no matter if the registration information implies/states that the registration information will not be "sold" or given to an outside agency -- it probably will be sold/given away!

Do not trust Web page owners in the above regard.

However: If you need/enjoy the Web page and you are confident about the Web page owner -- register!

When you register, you will (most of the time) be asked for a contact/Internet/eMail ID. For this reason, I normally provide an Internet ID that I know will receive information I may not want -- and will be given to outside-the-registration-process persons/companies. For this reason I have a "spare" eMail ID that I use for such contact IDs. Most of your Internet providers allow you to have multiple eMail IDs. I recommend you have one such ID that you use for registration and other potential "junk" eMail to be sent to.

The same could be true for snail (postal) mail. If you are asked for a postal mail address during registration, be aware that the address will (probably) be receiving "junk" mail. I have a second snail-mailing address (post office box) that I am fortunate to be able to use for registration purposes. If the registration does not accept post office box addresses, I am very hesitant to register.

NEVER provide your credit card number as part of the registration process. Are there exceptions to this comment? Yes. Just, be careful.
Some Web pages used this past month:
The following is a repeat from previous months. I don't have anything particular to add at this time.
As a reminder, to those of you who are new to my newsletters, I use the following regularly (I am intentionally not making the following information clickable. Just enter the addresses into your Web browser's "go to" field if you wish to go there now. Perhaps use copy/paste from this Web page's following information). In any case, for information, my most-used Web pages this month include:
MLB.com for USA's top Pro baseball listening. The audio, this year, is around $20 USA for the entire season (as compared with $13 a year ago). For me? It is a good investment! I enjoy listening to the Web radio broadcasts of baseball and if you are a baseball fan I can recommend it. I use my laptop in the evening and my primary PC for day games. I listen to about an hour a day of over 100 games a year (primarily the Minnesota Twins' games).
NFL.com for USA's top Pro American-football game listening. I listen to the Minnesota Vikings each time they play and I am on the Web. The Web radio support for the games (no fees are charged in 2002) has been reliable and much enjoyed. If your Internet connection costs are not time-related, give Web radio a try for your sport of choice.
If you are a golfer: In the November/December 2002 USGA's bi-monthly publication "Golf Journal" is a pointer to: http://www.usga.org/handicap/CRSlookup/index.asp and the newly-redesigned Web page related to USGA's handicapping. If you are interested in golf course ratings, golf handicapping, and related information give the page a look. I have only briefly checked it out so far, but it appears to be a lot of information readily available for golf-handicap-information needs.
Search engine of my choice: Primarily, Google: http://www.google.com

USA Newspaper (Minneapolis Star Tribune): http://www.startribune.com/

Europe Newspaper in English (Edinburgh Scotland, Scotsman): http://www.thescotsman.co.uk/

Europe Newspaper in German (Zurich Switzerland): http://www.tages-anzeiger.ch/portal/tagi/portal.htm

America Online's support for: "Business News", My Portfolios", "Movies" (Reviews), "Top News".

Weather: http://www.intellicast.com/
There are, naturally, other Web pages I used as the month went by -- but, the above I use on a daily basis.
Let me know what Web pages you use on a daily basis.
Maintenance Matters.
This area is a repeat from previous newsletters -- but it is worth continuing to include in current newsletters as well. I apologize for the repetition, but the topic is important.
As mentioned earlier in many of my newsletters: I recommend you have the latest vender-recommended software (operating system and primary applications) maintenance and security support. If you need assistance in this topic, don't hesitate to ask someone you trust.
Once again, nothing "dramatic" came up this month maintenance-wise on my systems. As a reminder, however:

Backup any of your user files / folders that contain information that you do not want to recreate. Remember: Your PC and/or its hard disk will break... You will have to, eventually, (probably at the worst possible moment!) recreate your user-data from your backup media.

Backup your key user-data on external media -- and, once in awhile store that external media "offsite" in case of a major disaster at your home. I realize this sounds extreme -- but, I recommend you take the time for offsite backup of your user data every six months or whenever you feel comfortable doing so. Where? Perhaps at a friend or relative's house that you trust will not be bothered by the material. I even know of some users who place the backup data once a year-or-so in a safe deposit box. Offsite backup is not a casual matter to either ignore nor "manage". However, I recommend you do it if your home computer system involves user data that you do not want to start from scratch recreating.

The latest McAfee XDAT (file for use by McAfee in identifying viruses) I have downloaded and installed use virus definitions 4.0.4268 dated 06/01/2003.

I recommend that whatever virus protection service you use, you check at least once a month for virus updates.

For Microsoft Internet Explorer, I have installed the latest security fixes from the Microsoft Web pages for IE6.
For Windows 2000 I installed SP3. Make certain you check with the Microsoft Web page and the Security section once in awhile. Have someone assist you if you are not interested in this topic but feel you should be more security conscious than you currently now are!

I recommend if you are running Windows that you upgrade to Internet Explorer V6 if you have not already done so and, in addition, try to keep up with Microsoft's security updates for Internet Explorer V6 as well as for your operating system.

I also installed the made-available end-August 2002 Microsoft Office application update.

Have someone assist you if you are not certain how to obtain/install the latest updates, pointed to by the Microsoft home page.
Have a good, maintenance-free time until we talk again.