Newsletter Comments from SCScompA
Newsletter Date: May 20, 2002
Welcome to my monthly newsletters.
As I mentioned in the March newsletter, the April newsletter would not be available until mid-May. Well -- I decided to forego the April newsletter and at least get onto a more reasonable date-schedule: This newsletter will be ready in May -- and is dated in May!
I encourage you to browse earlier SCScompA newsletters if you have not already done so, and to send me any comments/questions/concerns that you may have regarding material presented in these newsletters.
Let's begin, as usual, the newsletter with a couple of scanned (I use a Microtek ScanMaker V6upl) comics.
-------------------------------------------------------------------
Perhaps Training Would Help -- Perhaps, Not!
Many of us have had situations where we feel something we own has more potential than we are willing to admit.
-------------------------------------------------------------------
Communication
Communication is a family matter/responsibility. I wish you all good communicating!
-------------------------------------------------------------------

I wish you success with your use of home computing systems.
Contact me regarding any matter in this newsletter that causes you concern or you want to otherwise discuss.
Regards,
Dave Shogren
eMail to: SCScompA@aol.com
---------------
Short Summary of Using Laptop and Digital Camera During a Recent Vacation
In past newsletters I have discussed this topic many times. I do want to, however, summarize a few thoughts that came up during my recently-completed trip.
Writing a daily journal into the laptop (I use Word) worked great. I am used to writing each day -- and, I encourage you (if you have a laptop) to take the laptop on your vacation and, in turn, write a daily-or-as-time-allows summary of your vacation activities.

It is not critical that anyone else read your journal! Keeping the journal is self-satisfying in many cases and may be of value/interest to you as time passes. The laptop is a good way to keep your journal.

Backup your journal on floppies or some external media once in awhile during your trip.
The digital camera worked great. Having the laptop available to receive the daily-or-so pictures from the digital camera was necessary.

I took this year's pictures at a higher-level of detail (pixels) than I have used in the past. Previous setting was 0.3 megapixels (640 pixels wide). This trips setting was 1.2 megapixels (1280 pixels wide).

Based upon my 3-week April 2002 trip: I recommend the 1.2 megapixel setting. Since I use my pictures mostly on a PC or laptop, 1280 pixels wide is fine. A higher number of pixels would be of little value to me. For images I choose to print, I believe the 1.2 megapixel setting will also be sufficient. If your camera has a higher setting than 1280 wide: OK -- use it if you have the resources.... but I am not sure I will have use for higher detail than 1280 wide for the next few years. We see!

Backup your images on floppies or some external media once in awhile during your trip.
I used America Online's "free" (well.... we pay for AOL's services through our monthly fee) FTP space (called: Homeplace). It worked terrific. I had plenty of room for my journal and moved-to-the-Web images that I shared with friends/family.

After I returned to my home, I removed the images/journal from the Web. There was no reason for me to keep them there, since the friends/family I shared the trip's material with followed the day's activities with me by viewing the Web as the days passed -- I was comfortable with removing the material and when friends/family ask about the trip I will use my home PC to show them what we did.

My three-week journal on the Web contained about 40 images.

I have over 200 images from the trip. I will select some -- more than 40 and less than 200! -- for my "final trip report".

Using Word --> HTM format for the journal and my writing a small HTM file for showing the selected images worked fine. It is an approach I can recommend and encourage.
I was in Scotland. My America Online service is from the USA. Each time I signed on AOL I had to pay a surcharge (in my opinion a reasonable surcharge) totalling around $4 USA per hour of online use.

I was only online for purposes of reading eMail, sending eMail I had written offline (no reason to waste connection charges/time for writing messages), and for accessing my FTP space for my journal and selected images shared with friends/family.

Telephone connection cost was reasonable in Scotland. America Online offered a "National" number that was available from every location I was at -- and the setup/connection was easy and not a cost issue. It is more expensive than a local call (as I have in the USA) but much less expensive than if AOL did not offer a "National" number for its users.

Previous to the trip, I did not use America Online's Version 7. It was necessary to be at Version 7 to connect in Scotland.

I continue to use AOL's Version 6 on my home PC. Why? I have a problem connecting consistently with AOL using my home PC and Version 7. AOL has not been able to give me an answer "why"... so, I run Version 6 on my home PC and Version 7 on my laptop. There are some challenges in doing this from a practical point of view (having to do with AOL's "organize" folder) and I don't want to get into those challenges as part of this newsletter -- but, in any case if you have a similar situation as I describe above and have any concerns/questions you want to pass my way -- don't hesitate to do so.
The following two images are aimed at showing a quick summary of how what occurred.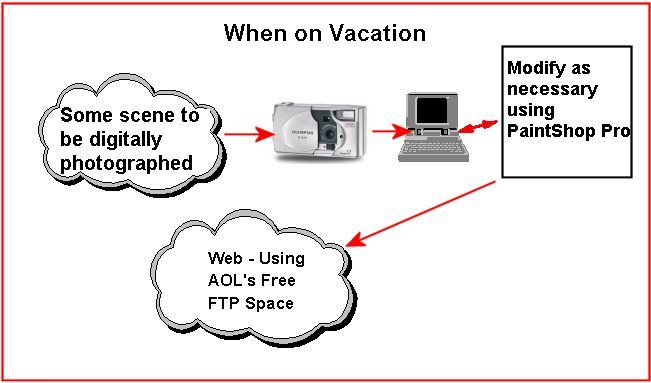 I wish you good travels, good "journaling" and good "imaging" as any vacations you take move along in 2002.
In most of my newsletters, I show a few examples of using an HTM-type approach at sharing photographs or other material including scanned images with family/friends.
This month I discuss/show examples of:
Pictures taken April, 2002, at 1.2 megapixels (1280 pixels wide) as part of a vacation in Scotland.
This month's Great Golf Hole.
To see this month's example click on: This Month's Photograph Examples from SCScompA.
-----------------------------------------------------------------

Don't hesitate to contact scscompa@aol.com with any comments regarding the above or for any related discussion.
Miscellaneous Comments Regarding Home Computer Use Matters that Came Up in February/March
Miscellaneous Matters.

FreeCell Deal 1941

I received a query recently regarding FreeCell 1941. As I mention in each of my newsletters, we (persons in our house) are attacking the Windows-provided deals 1-32,000. Will we ever complete them? Well, we are up to deal 2080. I started 3.5 years ago -- so, at 700 deals a year or so we will be finished in 42 more years.

Also in my monthly newsletter (see below) I also mention that I am keeping track of how many restarts it takes us to complete each deal. Deal 598 has been the most difficult deal for me to complete. In fact, I personally never completed 598.

When we completed deal 1941 we reported that it took 3 restarts to complete 1941. Well.... when we completed it, we must have fallen into the solution -- because after I had been asked the question I retried deal 1941 many times while I was travelling in April/May -- and I eventually gave up and went to the Web to find the solution! Yes, I "cheated".... I used the Web as a vehicle to find out if anyone had beat FreeCell deal 1941 and written the answer down!

I searched (using Google) for FreeCell 1941 and eventually found the following.

I am happy to see that there are many people cooperating in FreeCell and if I run across a deal in the future I need a solution to I am confident I can find that. NO, I did not look up (yet) deal 598..... I want to beat that someday!

Following are some panels regarding FreeCell 1941 that I saved and I hope it is interesting reading to you. Good luck, to all who try FreeCell! I enjoy the game.

-------------------------------------------------------------------
Where I Found A Printed Solution to FreeCell 1941

Let me know if you do not understand the following. Or -- search on FreeCell 1941 using your favorite Web search engine and look for a pointer-to solutions.

-------------------------------------------------------------------
Selected Panels For the FreeCell Deal 1941 Solution

I captured a few panels of the solution.

-------------------------------------------------------------------
Selected Panels For the FreeCell Deal 1941 Solution...

I captured a few panels of the solution.

-------------------------------------------------------------------
Selected Panels For the FreeCell Deal 1941 Solution...

The last move if you follow the path pointed to above.

I will you all "Good FreeCelling"!

Web Radio and USA Major League Baseball.

It is working great! I listen to the Minnesota Twins' games regularly, about 1-hour a game that I listen to. It is a wonderful way to keep in touch with Major League Baseball.

Junk/"Spam" eMail.

The junk keeps coming. As we have talked about before, it is possible to:

Read the eMail (do NOT download anything and do NOT respond to the junk eMail):

Find out who is sending the eMail (look at the end of the message and see the "routing") and, in turn, use your eMail-provider's support for banning incoming mail -- this is Mail-->Controls for America Online users.

However, be aware that in 2001 there was a virus issue that came along simply by Opening an eMail that had the virus.

Summary: Be careful..... And backup your systems!

Discuss this topic with some home computer support person that you have access to.

Some Web pages used this past month:

The following is a repeat from previous months. I don't have anything particular to add at this time.

As a reminder, to those of you who are new to my newsletters, I use the following regularly (I am intentionally not making the following information clickable. Just enter the addresses into your Web browser's "go to" field if you wish to go there now. Perhaps use copy/paste from this Web page's following information). In any case, for information, my most-used Web pages this month include:

MLB.com for Web radio baseball!
Search engine of my choice: Primarily, Google: http://www.google.com

USA Newspaper (Minneapolis Star Tribune): http://www.startribune.com/

Europe Newspaper in English (Edinburgh Scotland, Scotsman): http://www.thescotsman.co.uk/

Europe Newspaper in German (Zurich Switzerland): http://www.tages-anzeiger.ch/portal/tagi/portal.htm

America Online's support for: "Business News", My Portfolios", "Movies" (Reviews), "Top News".

Weather: http://www.intellicast.com/

There are, naturally, other Web pages I used as the month went by -- but, the above I use on a daily basis.

Let me know what Web pages you use on a daily basis.

Maintenance Matters.

As mentioned earlier in this newsletter: I recommend you have the latest vender-recommended software (operating system and primary applications) maintenance and security support. If you need assistance in this topic, don't hesitate to ask someone you trust.
Once again, nothing "dramatic" came up this month maintenance-wise on my systems. As a reminder, however:

Backup any of your user files / folders that contain information that you do not want to recreate. Remember: Your PC and/or its hard disk will break... You will have to, eventually, (probably at the worst possible moment!) recreate your user-data from your backup media.

Backup your key user-data on external media -- and, once in awhile store that external media "offsite" in case of a major disaster at your home. I realize this sounds extreme -- but, I recommend you take the time for offsite backup of your user data every six months or whenever you feel comfortable doing so. Where? Perhaps at a friend or relative's house that you trust will not be bothered by the material. I even know of some users who place the backup data once a year-or-so in a safe deposit box. Offsite backup is not a casual matter to either ignore nor "manage". However, I recommend you do it if your home computer system involves user data that you do not want to start from scratch recreating.

The latest McAfee XDAT (file for use by McAfee in identifying viruses) I have downloaded and installed use virus definitions 4.0.4202 dated 05/08/2002.

I recommend that whatever virus protection service you use, you check at least once a month for virus updates.

Have a good, maintenance-free time until we talk again.

Contact SCScompA if you have any comments or questions about the above.
---------------
FreeCell Game/Deal of the Month
We continue, in our household, doing FreeCell deals from 1-to-32000! We will NOT accomplish this task. We know that. However, as we go along in our for-fun-effort, yet frustration... I will mention once in awhile specific FreeCell deals we find challenging.

Note: If you are running your PC on Windows 98, it is possible you have to specifically install FreeCell. Just install Accessories/Games.

Let me know if these FreeCell games and the number of times we had to restart to solve the deal is about what you find. If you are going to attack deals 1-to-32000 and want to interact with us in that regard, let me know what thousand-or-so you are going to start with. We have completed deals through 2000. Now, we are attacking 2001-to-3000 and I would recommend you start with 3001! At the rate we are going (a little more than 100 deals a month) it will only take us 22 more years to complete the 32000 deals without your help. If you let us know what you have completed, it will take us less time!

I am adding to this column in the newsletter a few "special" games that we found during the month.

Note: I will update this material by the end of business day May 20, 2002.

Let me know how YOU do!

If you want to see our list of FreeCell Deals 1-thru-what we are working on now and our comments on how many times we had to restart the deal to find a solution, let me know -- or click on: SCScompA FreeCell Table of Completed Deals

---------------
To contact me about anything on this Web page, please: send mail to: SCScompA@aol.com

Or send snail-mail to:

SCScompA
P.O. Box 58223
Raleigh NC 27658
USA

------------------------------


Use your Web browser's Back button or to go to SCScompA's main Web page and other newsletters, click on: SCScompA main web page or go to any of the pages pointed to in the SCScompA frame at the left of this panel.