I had occasion this past month to test using my home's telephone wiring as a media for communicating between my laptop and my main PC. I have been meaning to test this for awhile and this month's test was on a start on this topic.
The purpose of the following is to share my initial experiences with you while seeing if you are involved/interested in this topic. I would appreciate your feedback on your involvement/interest when you get a chance.
For those of you who are experienced:
Yes, I know about wireless. No -- at this time -- I have not tried wireless and I do not see that as an option for me for a couple of years.
I do not have a way -- at this time -- to test Internet access across the home network. The testing I have used my home's telephone wiring in conjunction with my Ethernet hub (connected to my home's main PC) has been limited to sharing data (folders/etc.) and printer.
For those of you who have interest in this topic, browse along the remainder of this newsletter's item -- and let me know if you have any comments/similar experiences you are willing to share.
Note: I will not, in the following, discuss in any detail the software/connectivity matters used with my Windows 2000 Professional operating systems' setup. If you have need of such help, ask someone who normally assists you with your home computer situation. I can, however, recommend (if you are a Windows' user) the Windows' Help panels as a guide and that you have all your PCs/laptops in your home initialized with user IDs and user passwords. If you are going to use Home Networking for multiple PCs/laptops -- always use a "User" and associated passwords when bringing up your system(s).
An Overview of The Environment
-----------------------------------------------------------------
What We Want to Do
The above message says that a particular "network path" could not be found. The "network path" is, in this case, a Windows directory on my primary PC and I am trying to access it from my laptop.
Since there are two separate PCs involved and the information I want is not on the Laptop (PC) I am currently working on, one approach that I can use to "see"/use the information is to have a network path (and the software security/definitions to use that network path) between the two PCs.
The network path will allow me to meet my objective.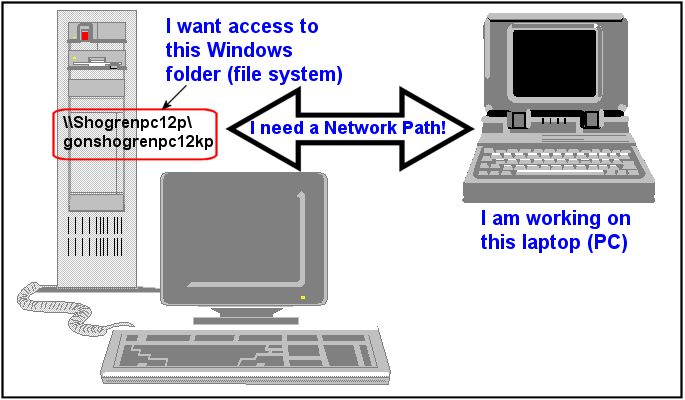 Let's take a look at the network path. I normally use a "normal" Ethernet connection/wiring for the network path between my PC and laptop.
Each computer has an Ethernet card that is connected by an Ethernet cable and, in turn, into an Ethernet hub. This is as normal/plain a connection as can be. Note: Well, it would be possible to not use the Ethernet hub. I could connect, directly, the two PCs without the hub - with a "wire-to-wire" connection. In such a case the wire is called a "cross-over" wire -- a different wire than when using the hub. The hub does this "cross-over" function for me -- and with the hub I am not limited to only two PCs as with a cross-over cable.
The hub, in addition to "taking care" of the cross-over function, allows me to route multiple Ethernet connections. However, in this example - there are only two: My PC and my laptop.
OK. I have been using the above technique for years.
However, there is one primary limitation with the above:
The wiring. Although the laptop is portable -- the Ethernet cable I use is not "wired" through all rooms in my house and, in turn, back to my Ethernet hub.

If I had a new house.... Or unlimited resources/time/facilities to re-wire my house with Ethernet wiring!... I would have connections (wall-type, probably) in all rooms of my house. You see wall connections -- and many of you use such wall connections -- for Ethernet network connections in your office/place of business, and in some "newer" homes.

Note: OK.... I could go the wireless route as a network connection -- but for now: I use wires!

In any case, I decided to try using "other wires" that are in most rooms of my house.

Telephone wiring.
The "connection" 1 (shown above and below) stays as-is and the "Networking Gateway" is connected to a wall phone line connection and to the Ethernet hub. The Ethernet hub is connected to the PC. Therefore, the PC, Ethernet hub, and Networking Gateway are located in one room of the house.
The other connections, using the Phone Line USB Network Connection can be from anywhere in the house that has a wall phone line connection.
Once the second PC is connected - I can meet my objective of accessing the previously-mentioned PC folder. The following part-of-a-panel was shown to me on the laptop. The folders and the contents of the folders are "online" and on the PC -- but available to me on the laptop.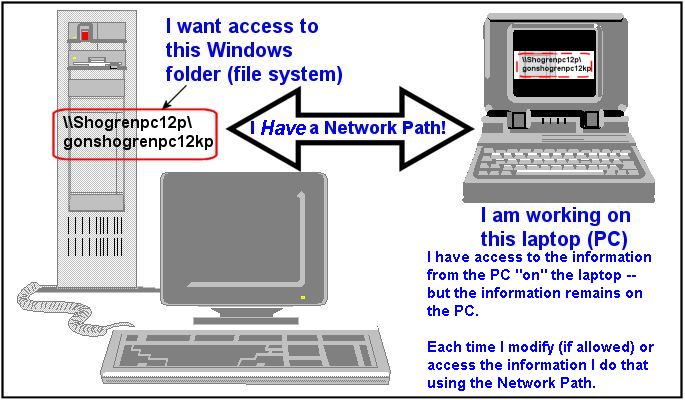 The network path could be used for accessing a printer in addition to PC folder's data and applications.
I do not use the network path for accessing Internet (for example, from the laptop "through" the PC). It is possible.... but I do not currently have applications that support that. Perhaps, someday.
If you are interested in more information on this setup and a closer look at the equipment involved, click on: Additional Information Regarding Phone Line Use as part of a Network Path for Multiple PC/laptops.
If you have any comments on this topic, don't hesitate to contact me using SCScompA@aol.com.
Good luck as your Home Networking moves forward.