I am asked quite often why I use Freecell. Well, I enjoy it! A Freecell-break once in awhile never hurt me....
Often, however, people ask me: "What is Freecell? Therefore, I thought that I would take the opportunity of my families' completing the first 2000 (of 32000) Freecell deals as distributed by Microsoft to give a brief description of Freecell in this newsletter.
Just skip this part of the newsletter if you are familiar with Freecell yourself.
Freecell, on the PC, is distributed at no-charge with Windows from Microsoft. In some cases, your PC may not have Freecell if the person who installed the operating system (Windows) chose to not install "games". In that case, you can install the "games" from your installation disk if you know how to do that -- or, ask someone to assist you.
If you are uncertain if you have Freecell, you should be able to see by:
Clicking on:

Start-->Programs-->Accessories-->Games and see if Freecell is listed there.

If it shows up, give it a click and it will start!

If the above path is not on your Windows' system, see if someone can assist you by either finding Freecell from another path or copying Freecell from some other operating system to yours.

You also (I have never done this, but I have heard it is possible to find different versions of Freecell on the Web) can search the Web and see if you find a non-charge or other version of Freecell you like.

The rest of this newsletter item assumes you have Freecell from the no-charge Microsoft operating system installation effort.
Once Freecell has started, a panel will appear similar to the one on the left (below) and if you click on Game you will have some different possibilities (New Game or Select Game):
The version of non-charge Freecell from Microsoft that I use has 32000 deals. The good news: If you play a particular deal (such as deal 1) today: It will be the same deal (1) that other persons play.
This allows you to discuss a deal with other friends/family members.
The deal number shown in the above panel is a random number that appeared when I clicked on Select Game.
The deal shown below is when I selected deal 7647. See if you get the same panel when you select deal 7647. You should!
Use Game-->Select Game and select deal 1. It should be the same as the following. (You will be asked if you want to "Resign" the previous game. OK! Resign it!!!! You can come back to it anytime.)
Once you have a deal (such as deal 1, above) you can use the Freecell Help to assist you in getting started. However, a few quick comments:
The object is to move all the cards to the upper-right four slots, "stacking" the cards up within their own color/suit starting with the Ace, then the two, then the three, and so on.

You can only move a card to the upper-right slots if the card is at the bottom of the eight stacks -- or, if the card is in one of the four upper-left slots.

Once you move a card into the upper-right slots, you cannot bring the card back out of the upper-right slots.

The four upper-left slots are work areas. Only one card can be in a work area slot at a time.

You may bring a card back out of the upper-left slot anytime it is possible to "play" that card. "Playing" a card means, in this case, that it is either:

Placed at the bottom of one of the eight stacks.

or

Placed at the top of one of the four upper-right slots.

You can "play" a card by placing it in numbered sequence, black/red or red/black as in many games of card solitaire.
You may move from the bottom of one of the eight stacks to another of the eight stacks any number of numbered black/red or red/black sequences (multiple cards) with a single move.

However.... Freecell needs some work area to move multiple cards! Therefore, if you do not have sufficient free upper-left work areas or open stacks (one or more of the eight stacks are empty) Freecell will let you know you do not have enough room for it to move your multiple-cards.

That is why I often lose.... I am not careful in "saving" room in the upper-left work areas. I wish you better luck.

You lose the game when you cannot move a card from either the bottom of the eight stacks or from one of the four upper-left work area slots and all of the cards are not in the upper-right slots.
You win when all of the cards are in the upper-right slots.
Give it a try, starting with deal 1. In the following panel, I started by moving the red 3 to one of the work areas, then the red 2 to one of the other work areas. The game of Freecell then moved the aces to the top-right slots for me and moved the black two to its appropriate ace.
See that a similar action by you ends up as follows.
Now, see if you can complete deal 1. Good luck!
Eventually, when the panel looks as follows, you have won deal 1!
You have, now, only 31,199 left to complete!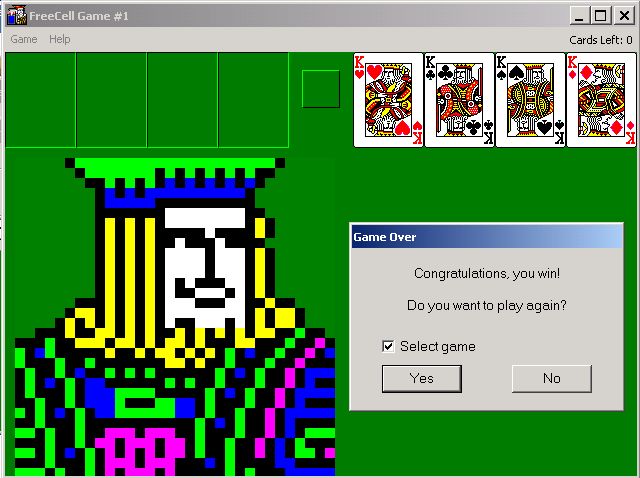 I hope that this overview, if you have not used Freecell previously, helped you to give it a try. I use Freecell once in awhile because:
It is fun!
It has no stress level!
It is a good way, when I work with people who are not experienced with using a PC mouse, for them to gain confidence in using the mouse.
I want to someday complete all 32,000 deals, keeping track of how many times I had to restart a deal.

At the end of this Web page and at the end of each monthly newsletter I report Freecell deals-of-the-month in my experience.

I have never been able to complete deal 598. Others in my family have completed it. Someday, for me!

Good luck in your use of Freecell. Let me know how you have done.
Contact SCScompA regarding the above discussion: I am interested in your comments and in knowing if the topic fits your needs. I also have lab exercises that assist you in better understanding the approaches used if you have need of such assistance.