Newsletter Comments from SCScompA
Newsletter Date: December 31, 2002
Welcome to my monthly newsletters.
I wish you a great start to 2003 and I hope that your home computing is successful.
Many of you may have just started down the path of home computing, and if you are in that set of people: I encourage you to browse earlier SCScompA newsletters if you have not already done so.
All of you: Don't hesitate to send me any comments/questions/concerns that you may have regarding material presented in these newsletters.
Let's begin, as usual, the newsletter with a couple of scanned (I use a Microtek ScanMaker V6upl) comics.
-------------------------------------------------------------------
Sometimes We Say More Than We Mean To
He promises more than he will be able to deliver, I am sure of that.
-------------------------------------------------------------------
A Team Game
Working together is a good idea.
-------------------------------------------------------------------

I wish you success with your use of home computing systems.
Contact me regarding any matter in this newsletter that causes you concern or you want to otherwise discuss.
Regards,
Dave Shogren
eMail to: SCScompA@aol.com
---------------
My 5-year-old Home Computer System - Revisited, December 2002
It is possible that you have been the recipient of a gift (perhaps, even, to yourself by yourself!) over the holidays of a home computer system.
Or -- you may be thinking of purchasing a home computer system.
Last month I mentioned once again the $3000 rule. I believe in that rule -- and, the rule has held to be true (in my opinion) since I started in this home computing "world" six years ago. To summarize the rule: Budget yourself $3000 and you will end up with a good home computer system you will be happy with for years.
Related to the rule, I was asked this month what type of home computing system I use. Well -- my home computing system is over five years old and it continues to serve me well.
I mention the following only because I was asked (recently), multiple times, what I use. Here is a summary. It is presented in case you want to purchase a minimal 2003 home computing system -- you can see that the "speed" and characteristics of the following system is sufficient for normal home computer use. Assuming I am somewhat normal!
The newer systems no doubt perform excellently regarding graphics/games -- but, with the following system my graphics support is sufficient for my use. I do not run heavy-graphics-games, so I cannot comment in that regard. For "normal" games and graphics the following performs sufficiently for my needs. Would I rather have a "faster" system" Why not!!? Someday, when my currently 5-year-old system passes on.
Here is what I use -- and that was in the $3000 budget 5-years ago: (Only the main software, etc. is shown.)
Pentium 200 MHz

128 Meg main (RAM) memory

Two hard disks. 1x1.5 gig and 1x8 gig

AOC Spectrum 7GLR 17" monitor with a normal Graphics card (ATI Tech)

Kinyo speakers with subwoofer and normal sound card.

Network card (Ethernet) and Ethernet hub.

HP DeskJet 832C printer

Microtek ScanMaker V6UPL scanner

Panasonic KX-HGW200 Home Networking Hub (for in-house phone wire connection networking)

Microsoft Windows 2000 Pro (Main use for my system)

Microsoft Windows ME (Dual-bootable, rarely used)

Main software (used on a daily basis):
Microsoft Office 2000 Standard (Word used the most)
America Online
JASC PaintShop Pro

Other software (used on a regular basis):
WordPad. Yes - I use it a lot.
Games: FreeCell, Bridge Baron, Hoyle Card Games (esp. Hearts)
Lotus Organizer
WineWin
Olympus Camedia

Other software (used less regularly, but worth mentioning):
Microsoft Visual Basic and QuickBASIC
Delorme Street Atlas
Delorme Phone Search
Microsoft AutoRoute Express Europe
Handicalc (Golf handicapping)
Caere OmniPage
Game: Links LS 99

Other software used regularly "in the background":
Netscape Navigator
RealOne
Acrobat Reader
Smith Micro HotFax
Scanner driver (TWAIN) support.
Why did I mention the above? Well, I want to encourage you to take the time to make a similar list of matters you use as part of your home computing.
Someday you will need such a list. Hopefully, not in an emergency -- rather, when you upgrade your home computer system.
If you replace the above -- you will rapidly get to the $3000 budget I mentioned in the last two newsletters.
If you have any comments on this topic, don't hesitate to contact me using SCScompA@aol.com.
An Example of Using Word and the Home Computer for Food Recipes
There are many ways to use the home computer to save recipes or other family-related information.
This small example is using Microsoft Word plus a digital camera and a scanner to save, display, print, and share the information.
The steps taken to do this include:
Get the information! The information may be with another family member and the information may require some discussions. In some cases, family members may only have the information "in their minds". Take the time to write things down... even if you do not use the computer to keep the information.
Decide what way to save the information on the home computing system. I use Microsoft Word as the "storage" approach.
Input the information into your "storage" (in my case, Microsoft Word). This sounds obvious -- but, once you start entering the information you will find out quickly that it will be easy to do if you have a "profile" of how the information should look. Therefore: Come up with a "standard" format for your Word document.

Use your scanner to assist you as possible.

Use your camera to assist you as possible.

Use something like PaintShop Pro to manipulate/adjust pictures and images that you will import into your Word document.

Save, Print Preview, and eventually Print your document.

Backup!!! The saved document (including any images you have used).
Decide if you are going to share the document/information with other family members and friends via an Internet-type approach. If so: Implement that approach.
Backup!!!
The following example is intended to show the above in case you have not started something similar using your home computing system.
Getting Started - After We Have Gathered the Information!
Before we start entering into Microsoft Word, we have gathered the recipe information and, hopefully, a picture-or-two of the recipe's results.
After we have the information, we start Word and, first, build a profile of the final recipe's format. We may use this profile for all subsequent recipes.
Bring up Word and request a New document. This first new document will not directly have the recipe in it. It is a profile that we will use for the actual recipe.
After asking for a New document, we are presented a blank "format" to get started.

We start by setting our profile to have a Heading on each page. In this example, I will put a text name in the heading as well as ask Word to place a page number on each page heading. First, we ask Word to present a view of the heading:
We will write our text into the "blank" heading.
Then we ask that Word place a page number in each page of the heading.
Our heading is ready!
We then ask Word to View Print Format.
Now we input text into the New Word document that will eventually be replaced by our actual recipe. Remember, at this time (the first New document) we are building a profile that we can use over-and-over again with information for various recipes.
Now we save the "profile" document that we just created. We save that as a "Template" in Word terminology -- and we save that in a directory/folder/place that Word can later find the template when we ask for it. (We have talked about "configuring" Word and it's special files in earlier newsletters. If you need help from someone in this area, you will need to find someone who knows Word or use the Word Help. The path for the configuration is from the Word bar Tools->Customize).

First we "Save As":
Then, we say where we want it saved -- and that we want it saved as a Template.
We then Close the "document" (the one we just saved!) and, in turn, ask to open another New document.
We ask, now, that we use the profile (template) we just created. We may use this template over and over again for each recipe.
Our profile is returned to us as a document -- and we now will "overtype" (input text and our picture if we have a picture) into the New document.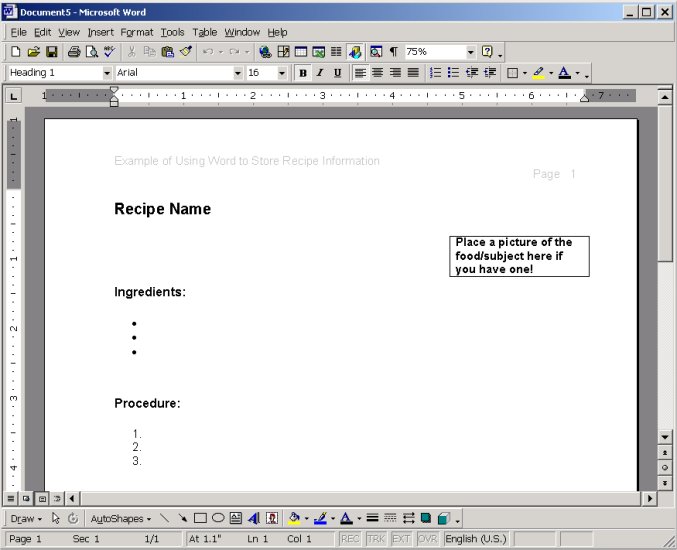 First we input the text.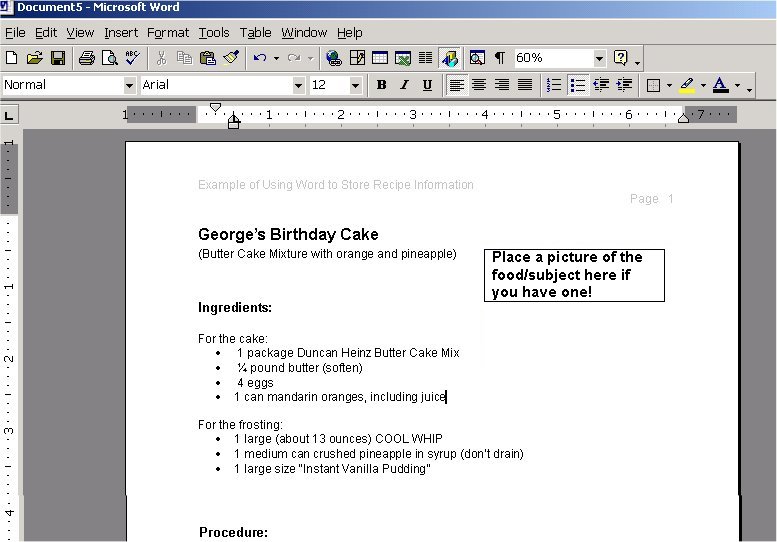 Next, we go to our "image processing application" (where our picture is) and Edit->Copy it into the clipboard.
We Edit->Paste into our Word document.

Once we have the picture in our Word document, I prefer to right-button click the picture and ask Word to place it "behind" the text. This allows me to move the picture around the Word page.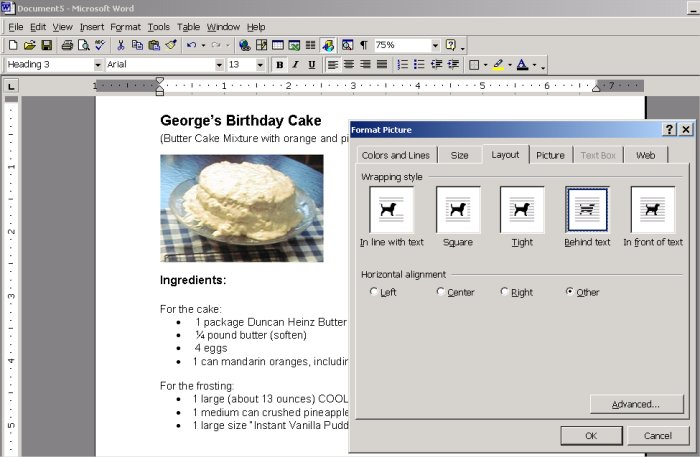 After that - we are done!
Now: We save our document (naturally we use Word to spell check the document first!). Then, we back it up (sometime...).

Then we print the recipe and use it outside the PC area!!!

We repeat the process for all our recipes, have a separate Word document for each recipe -- or merge the separate Word documents into a single document (that is what I do) that has a cover page and a table of contents. Perhaps we talk about that in an upcoming newsletter if there is interest in doing so.

Good luck with your data entry, saving, and use of Word in conjunction with your recipes on/with your home computing system.
This Month's Example of Scanned Material and/or Digital Photographs
In most of my newsletters, I show a few examples of using an HTM-type approach at sharing photographs or other material including scanned images with family/friends.
This month I discuss/show examples of:
Miscellaneous images resulting from end-of-2002 holiday pictures. Especially showing examples of close-up pictures taken in digital camera "Macro" mode.
This month's Great Golf Hole.
To see this month's example click anywhere on the following image, or, on the link below the image.

Link to This Month's Photograph Examples from SCScompA (if you did not click on the above image).

-----------------------------------------------------------------


Don't hesitate to contact scscompa@aol.com with any comments regarding the above or for any related discussion.
Miscellaneous Comments Regarding Home Computer Use Matters that Came Up in December 2002
Miscellaneous Matters.

No comment this month!

Some Web pages used this past month:

The following is a repeat from previous months. I don't have anything particular to add at this time.

As a reminder, to those of you who are new to my newsletters, I use the following regularly (I am intentionally not making the following information clickable. Just enter the addresses into your Web browser's "go to" field if you wish to go there now. Perhaps use copy/paste from this Web page's following information). In any case, for information, my most-used Web pages this month include:

NFL.com for USA's top Pro American-football game listening. I listen to the Minnesota Vikings each time they play and I am on the Web. The Web radio support for the games (no fees are charged in 2002) has been reliable and much enjoyed. If your Internet connection costs are not time-related, give Web radio a try for your sport of choice.
If you are a golfer: In the November/December 2002 USGA's bi-monthly publication "Golf Journal" is a pointer to: http://www.usga.org/handicap/CRSlookup/index.asp and the newly-redesigned Web page related to USGA's handicapping. If you are interested in golf course ratings, golf handicapping, and related information give the page a look. I have only briefly checked it out so far, but it appears to be a lot of information readily available for golf-handicap-information needs.
MLB.com for Web radio baseball! The season is over -- the listening was excellent -- and well worth (to me) the $15.00 USA for the entire year. Assuming the cost does not increase too much in 2003, I already look forward to the 2003 season's baseball-listening on the Web.
Search engine of my choice: Primarily, Google: http://www.google.com

USA Newspaper (Minneapolis Star Tribune): http://www.startribune.com/

Europe Newspaper in English (Edinburgh Scotland, Scotsman): http://www.thescotsman.co.uk/

Europe Newspaper in German (Zurich Switzerland): http://www.tages-anzeiger.ch/portal/tagi/portal.htm

America Online's support for: "Business News", My Portfolios", "Movies" (Reviews), "Top News".

Weather: http://www.intellicast.com/

There are, naturally, other Web pages I used as the month went by -- but, the above I use on a daily basis.

Let me know what Web pages you use on a daily basis.

Maintenance Matters.

This area is a repeat from previous newsletters -- but it is worth continuing to include in current newsletters as well. I apologize for the repetition, but the topic is important.

As mentioned earlier in many of my newsletters: I recommend you have the latest vender-recommended software (operating system and primary applications) maintenance and security support. If you need assistance in this topic, don't hesitate to ask someone you trust.
Once again, nothing "dramatic" came up this month maintenance-wise on my systems. As a reminder, however:

Backup any of your user files / folders that contain information that you do not want to recreate. Remember: Your PC and/or its hard disk will break... You will have to, eventually, (probably at the worst possible moment!) recreate your user-data from your backup media.

Backup your key user-data on external media -- and, once in awhile store that external media "offsite" in case of a major disaster at your home. I realize this sounds extreme -- but, I recommend you take the time for offsite backup of your user data every six months or whenever you feel comfortable doing so. Where? Perhaps at a friend or relative's house that you trust will not be bothered by the material. I even know of some users who place the backup data once a year-or-so in a safe deposit box. Offsite backup is not a casual matter to either ignore nor "manage". However, I recommend you do it if your home computer system involves user data that you do not want to start from scratch recreating.

The latest McAfee XDAT (file for use by McAfee in identifying viruses) I have downloaded and installed use virus definitions 4.0.4239 dated 12/23/2002.

I recommend that whatever virus protection service you use, you check at least once a month for virus updates.

For Microsoft Internet Explorer, I have installed Q328970 that was available in November.
For Windows 2000 I installed Q329414 that was also made available November 2002. Note that this recommended fix is for other operating systems than Windows 2000 -- so, please try to keep up with the security as recommended by Microsoft; go to their Web page and the Security section once in awhile. Have someone assist you if you are not interested in this topic but feel you should be more security conscious than you currently now are!

I recommend if you are running Windows that you upgrade to Internet Explorer V6 if you have not already done so and, in addition, try to keep up with Microsoft's security updates for Internet Explorer V6 as well as for your operating system.

I also installed the made-available end-August 2002 Microsoft Office application update.

Have someone assist you if you are not certain how to obtain/install the latest updates, pointed to by the Microsoft home page.

Have a good, maintenance-free time until we talk again.
Contact SCScompA if you have any comments or questions about the above.

---------------
FreeCell Game/Deal of the Month
We continue, in our household, doing FreeCell deals from 1-to-32000! We will NOT accomplish this task. We know that. However, as we go along in our for-fun-effort, yet frustration... I will mention once in awhile specific FreeCell deals we find challenging.

Note: If you are running your PC on Windows 98, it is possible you have to specifically install FreeCell. Just install Accessories/Games.

Let me know if these FreeCell games and the number of times we had to restart to solve the deal is about what you find. If you are going to attack deals 1-to-32000 and want to interact with us in that regard, let me know what thousand-or-so you are going to start with. We have completed deals through 2000. Now, we are attacking 2001-to-3000 and I would recommend you start with 3001! At the rate we are going (a little more than 100 deals a month) it will only take us 22 more years to complete the 32000 deals without your help. If you let us know what you have completed, it will take us less time!

I am adding to this column in the newsletter a few "special" games that we found during the month.

Let me know how YOU do!

If you want to see our list of FreeCell Deals 1-thru-what we are working on now and our comments on how many times we had to restart the deal to find a solution, let me know -- or click on: SCScompA FreeCell Table of Completed Deals

---------------
To contact me about anything on this Web page, please: send mail to: SCScompA@aol.com

Or send snail-mail to:

SCScompA
P.O. Box 58223
Raleigh NC 27658
USA

------------------------------


Use your Web browser's Back button or to go to SCScompA's main Web page and other newsletters, click on: SCScompA main Web page or go to any of the pages pointed to in the SCScompA frame at the left of this panel if you are viewing this within a frame of the main Web page.