Those of us who are America Online (AOL) users, may be running one of the versions whose main panel is shown below.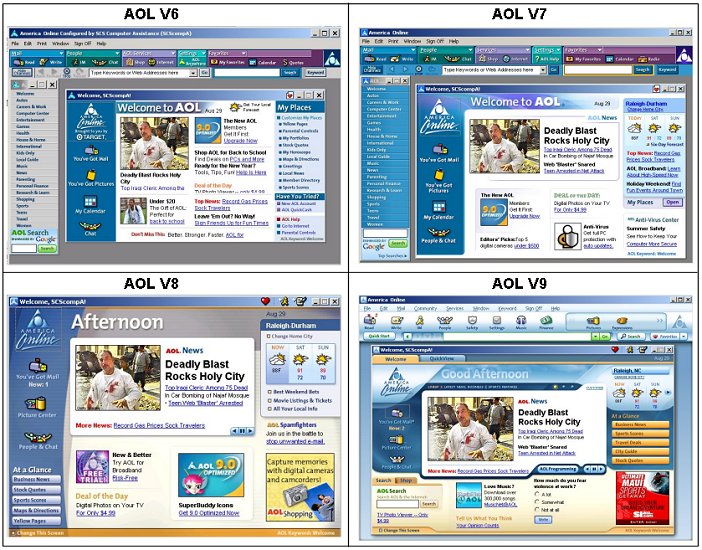 The above-shown main panels may be tailored by the user as offered by AOL's options -- and this "tailoring" has changed the most with Version 8 and Version 9 of AOL.
One matter common to all releases is: We cannot totally-remove the Welcome panel. If we "X" it out (ask Windows to close it), the panel is "minimized" as shown below.
Do we (as AOL users) normally "X" it out each time we use AOL? No... I think most of us live with the Welcome panel being there and, generally, ignore it.
The top part of the panel is where many of us spend most of our time. We can go to addresses we have placed in the Favorite's area (pulldown) or place an address in the "Go To" box (left of the "Go" button) to bring up a Web page of our choice. Read our Email, be presented the Write eMail panel, and so on.
AOL uses a modified version of Internet Explorer. Does that bother me? Only when they cause me "pain" by modifying the shown Web page information to fit AOL's purposes. This happens, sometimes -- for example, in the recent USA PGA golf tournament, I found that the AOL-presented "modified for AOL's purposes" presentation of player's scores was not working properly and I re-opened the Web page using a Netscape browser "outside" of AOL. Not difficult to do - but, it was unfortunate that it was necessary to do so for my full enjoyment of a set of Web pages. However, I realize that we (as AOL users) "need" the advertising and "paid to AOL by partner's-to-AOL" bonuses for our going to their Web page from AOL. Having these "partners" assists AOL to keep the cost of AOL relatively low (in USA $ about $20-22 per month; many of us do not have additional costs for the telephone call). Therefore, generally, I (as an AOL user) "put up" with AOL's sometimes-unfortunate coding errors that show up with their-used/modified browser.
If we do not want to use AOL's modified browser, it is possible (starting with AOL V6) to use another browser by simply bringing up the browser and minimizing the AOL panel. I suspect that few AOL users do this -- we (AOL users) simply live with the AOL-modified browser support.
Note: The $20-22 mentioned above is for dial-up connection. I still use dial support and up to this point see little/no reason for me (as a home user-oriented Web user) to pay double that cost per month for high-speed connection. Simply, this is my opinion for my use of the Web.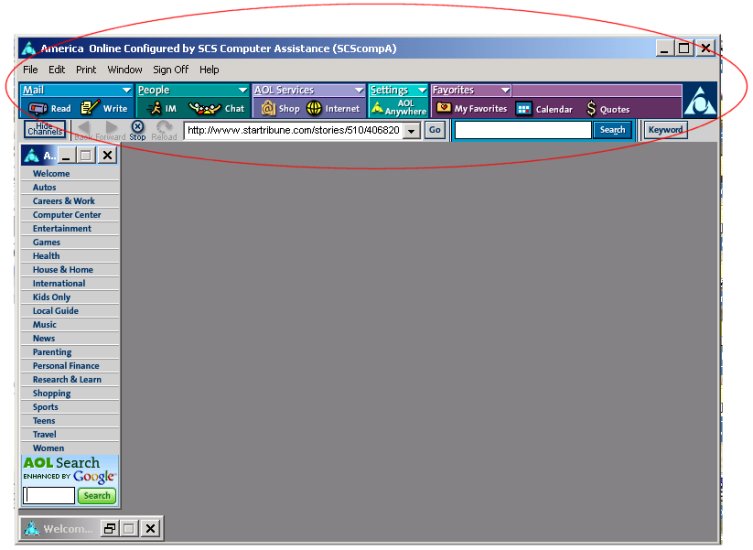 As with any Internet Provider (IP) and/or primary Web page service (Web Portal), AOL provides many "canned" sets of routines to assist the AOL user in enjoying/using the Web.
So - given the above - what are some reasons for AOL bringing out a new version? In my case, I still use V6 on my primary system. I use V7 on my laptop. I use V8 on my secondary machine and I participate in the AOL Beta program that, currently, emphasizes V9.
Some reasons (in my opinion) for AOL to bring out a new version include:
Attempt to enhance the end-user's experience by making the "main panel" easier to use. AOL, as a "Web Portal" will benefit (and, thusly - in my view - keep its cost-to-me reasonable) if we go to Web pages from its main panel. Therefore, it is important that they make the main panel easy to use.
Software maintenance. Taking advantage of operating system and increased hardware capabilities require modifications to software code. Modification, generally, means (eventually): A new version!
Increased offerings that a user may pay extra for. Normal business for a product vendor.
OK! AOL has new versions and the reasons for a new version make sense -- at least, to AOL! Should I move to the new version?
My answer to people when they ask the question is: If you are happy now.... only move to a new version if you feel that you need to! If you want to address any of the above-mentioned "reasons": Then move to a later version.
Up until V9 I, personally, have not seen reasons to upgrade. There have been some -- and, as I mentioned: I do use V7 and V8.
However, the current "press" reviews of V9 and my own experience with the V9 Beta has been adequate enough for me to consider moving my primary system to V9.
A recent user sent me a note that said "I LOVE AOL V9!". I asked the user to send me a further comment and the comeback was:
The last version that was downloaded for me was #7, so I suppose some of my 'likes' may have already been addressed in #8. I should also say that I have not investigated all the possibilities and different icons but my favorites so far are:

- Spam delete
- Spam custom word to control senders
- Graphic at the top of the screen to show new emails or IM
- Expanded screen when reading email
- TV guide for the day
- Signature on file
- New categories for managing mail
- Instructions readily available to understand some of the icons
- Lighter, brighter screen
- Remind Me option
I appreciate the user sending me the above -- and I pass the comments onto you if you are an AOL user and are considering moving to V9.
In my case, I found the capabilities of V9 for File Cabinet use of saved eMail of value.
Note: If you have multiple AOL products on different systems (for example, I use a primary PC and a laptop the most) you may need to copy the AOL Organize file from one system to another. Why? The Organize file has saved eMail information. If you are in this situation, be aware that the Organize file's location has moved in V9. It is easy to find out where, using the AOL Help. If you have any concerns/problems in this regard, ask for assistance from someone you trust.
Let me know (if you are an AOL user) if there is value in an upcoming newsletter showing some experiences/examples of AOL V9.
Good luck with whatever Web support that you use!
If you have any comments regarding this topic or any newsletter item, don't hesitate to contact me using SCScompA@aol.com.